Luxury Indian Wear Brand Frontier Heritage Expands Footprint, Opens In Bay Area
Photo : Frontier Heritage recently expanded its operations by opening a new store in Fremont, CA. Punjabi actress Sonam Bajwa inaugurated the showroom.
By REENA RATHORE
FREMONT, CA- Frontier Heritage, Southern California's leading luxury Indian traditional wear label, recently opened its doors to a new location in Northern California, filling a void in the area that is home to a thriving Indian American community.
The 2,000 sq ft store, located in central Fremont at 3171 Mowry Avenue, was inaugurated on March 19 by popular Punjabi actress Sonam Bajwa.
"We are so excited to be in the Bay Area. This has been a long project of ours. We have been hoping to expand for many years and finally seeing it come to fruition has been a very rewarding feeling. We are looking forward to serving our clients here," Tanmay Asija, the son of the owners Ravi and Neeta Asija, told India-West.
Their appeal lies in their philosophy of always striving to understand that each customer is unique and thereby crafting custom solutions, said Asija, who also serves as the store's manager.
The brand, known for its bespoke bridal/groom wear, offers a curated selection of ethnic and contemporary styles and unparalleled artistry in a range of silhouettes and varied color options.
Ornate embroideries like zardozi, kundan, mirror work, beads, sequin, pearls, and intricate threadwork form a lot of the collection which features lehengas, sarees, suits, and gowns in rich fabrics like brocade, silk, georgette, and organza for that ultra luxurious look. Intricate jewelry pieces that complement the look also adorn the shelves of the store.
Frontier Heritage has been a family business for generations. It was founded in 1954 in a small town in Punjab by Asija's grandfather that has eventually grown into several boutiques across the globe.
In North America, Frontier Heritage opened its first showroom in Toronto, Canada, in November 2005, and it entered the U.S. market in February 2006 by establishing its second store in Artesia, CA.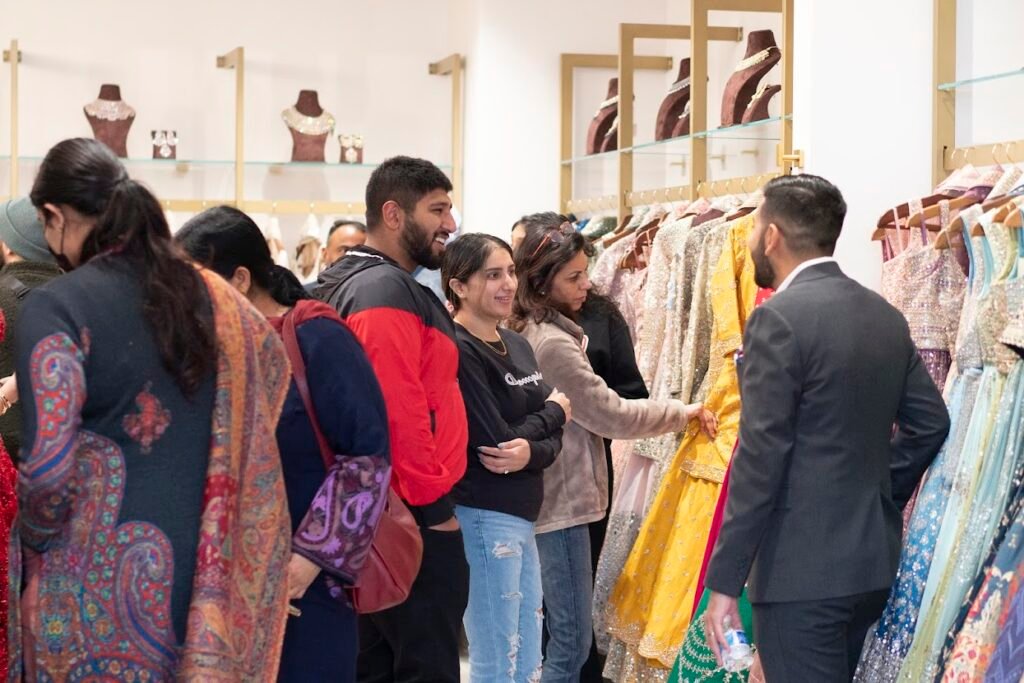 Over the years, the brand has learned the art of breaking through the clutter and carving out a niche in the market, also attracting Hollywood A-listers such as actress Halle Berry and Indian American actress/producer Mindy Kaling to their store.
The Bay Area store Asija said, is pulling out all the stops and is taking a somewhat different approach to customer service. "It' s a totally different store compared to our other showrooms which are more traditional, bigger in size. Both our L.A. and Toronto stores are 3,500 square feet in size," Asija said. "This one takes a totally different approach to retail. To make it more of a modern and more boutique-y experience, we have created private areas/sections for our clients so that they feel comfortable and that they are getting an exclusive experience when they are shopping."
In the rapidly changing world of fashion and priorities, Frontier Heritage reiterated Asija, uses a one-on-one approach in an effort to find the best outfit for every customer: from choosing the fabric to embroidery design and thread color.
He went on to note that for wedding wear in particular, exclusivity is of paramount importance, with brides wanting a celebratory experience. "They want to feel special in the whole wedding planning and the buying process. Our goal is to make sure that every client, whether they are a bride or not, feel like that they are having a unique experience that is defined for them," Asija added.
Asija's parents ran the store for multiple years while he helped them on the side. Expanding their footprint was always on the young entrepreneur's mind who joined the family business in 2020 after finishing his education and working for a couple of years.
The opening was scheduled for an earlier time, but their plans were thwarted by the pandemic. "It was always one of my goals to open up more stores, especially here. It was tough with the timing because of Covid. But I always wanted to come to the Bay Area because we have a huge market here and a lot of our customers from here come to Los Angeles," Asija told India-West. "So I figured rather than them coming to L.A., we'll come to them."
Admitting the risks that come with expansion, he said being in the Bay Area, "we are able to mitigate that risk a little bit because we are at least close enough to our other location."
The brand zeroed in on Fremont because of its accessibility to their local clients and neighboring cities.
"For clients from Yuba City, Sacramento, Fresno, Turlock, Tracy, we thought Fremont was the central location for all of them because it's a relatively easier drive," Asija told India-West. "And in addition to that, we feel that Fremont itself has a huge Indian population and a lot of our clients are here. I've had so many clients tell me 'Oh! we are just a 20-minute or a 15-minute drive away. In L.A., everybody drives far to get to our Artesia store."
Designed in-house, the collection comes to life in India. The only outside designer whose creations can be found in the store is renowned Indian designer Seema Gujral.