SAHARA Gala Focuses On Domestic Violence, Empowerment Of Women
Left: $100,000 was given by Manu and Rika Shah of MSI and the Sarva Mangal Family Trust. Right: The Tarsadia Foundation was a generous benefactor.
India-West Staff Reporter
CERRITOS, CA – The 31st annual gala of SAHARA held here at the Cerritos Sheraton on November 12, drew close to 300 guests in a show of support for valiant survivors of domestic violence and elder abuse in the South Asian Southern California community.
So profound was the impact of SAHARA's assistance and support to these victims that many in the audience were moved to tears by the stories shared by three survivors.
A passionate discussion by an esteemed panel of speakers featuring Dr. Sanchita Banerjee Saxena (BRAC USA), Vandana Tilak (Jupiter 360), Fiza Shah (Developments in Literacy), Sharon Angel (author, activist), and moderated by Nimmi Raghunathan (Editor-in-Chief India West) on 'Empowering Women,' was the highlight of the evening.
The room bustled with fervor as the pledge drive began. Manu and Rika Shah of MSI and the Sarva Mangal Family Trust, urged everyone present to donate generously to the Affordable Housing Initiative, which would help provide a safe pathway to self-sustainability and renewed independence for those victims who have regained confidence, learned life skills through services provided by SAHARA, and are eager to forge ahead.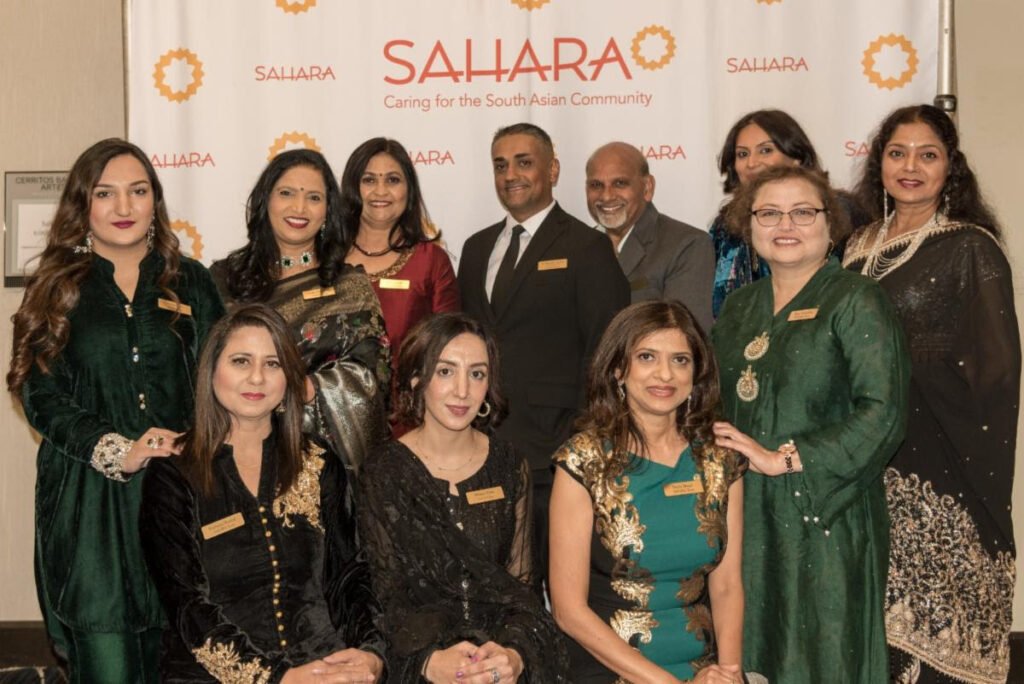 The evening ended on a high note with SAHARA's angels pledging over $850,000 with the largest benefactors Manu and Rika Shah and the Tarsadia Foundation, leading compassionate donors.
The Executive Director of SAHARA, Dr.Himesh Lakhlani, drew applause as he told the audience of the organization's successes in providing safe shelter housing, access and referrals to trauma-informed care, therapy, job opportunities, access to health care, public benefit, immigration, and legal assistance along with daily living essentials.
Just this year alone, he said, SAHARA was able to attend to almost 3,000 helpline calls, offer over 3,670 shelter bed nights, provide 377 clients with healthcare and citizenship services, almost 770 elder clients with social services and participate in over 125 awareness and outreach activities with the community.
SAHARA's President, Dr. Rubina Najeeb, in her speech, spoke of the organization's future vision, which includes proper integration of survivors in the community by implementing crucial initiatives, including affordable housing; educational partnerships with colleges and institutions and workforce development to provide access to the job market.