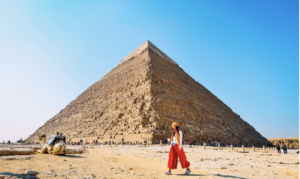 Egypt is one of the most affordable travel destinations in the world where every traveler will get have a splendid vacation at the most affordable prices across all the heavenly destinations of Egypt such as Cairo, Alexandria, Luxor, Aswan, Hurghada, Sinai, and many more hidden wonders. Every Budget traveler in Egypt will get to have the finest travel experience of a lifetime across all the rich culture and vast history that dates back to more than 4500 years. The key to having a true Egypt budget vacation is through booking a travel agency like "Egypt Tour" that will provide the most ideal tours of Egypt at the most affordable prices during your time in Egypt. Every traveler on a budget will find exactly what they are looking for in Egypt from incredible & beautiful ancient monuments and majestic resorts to relaxing accommodations, Nile cruises, and transportation at the most affordable prices plus a magical feeling of relaxation and excitement.
Plan and Calculate the Exact Number of Your Budget
Every traveler on Budget should know exactly how much money are they going to spend around Egypt. For example, the amount of an Egypt visa is about 25$ which you will need to have before entering Egypt. All across the country, there are a number of accommodations and transportation that will fit your budget.
Best Time in Egypt to Have A Budget Tour
It is common information that the best time to best in Egypt is from August to April where the climate is at its best at the seasons of Spring, Autumn, and winter at an average temperature of  21 C (70 F) and dry and humid weather with cold breezes. From March to July is the best time to get a discount on Egypt tours, international flights, accommodations, and more.  
Hiring A Travel Agency Is the Best Option to Save Your Budget
Every professional travel agency will contain a variety of budget tour packages and provide the most amazing accommodations, restaurants, transportations, Nile Cruises, and a number of entertaining activities at very affordable prices plus a comfortable feeling of tranquility & comfort and handle all the minor logistics. The best aspect of hiring a travel agency is the presence of a professional tour guide who will guide every traveler across the incredible attractions of Egypt. 
How Much Is A Tour In Egypt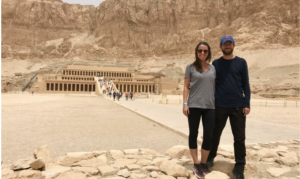 Egypt is very affordable for all travelers, as for example, every budget traveler can book 8 days itinerary to Cairo, Alexandria, Nile Cruise between Luxor & Aswan plus Abu Simbel for the cost of 2,400$ including everything from international Airfare to Accommodations. The Budget Tours is known to range from $390 to $1099 while the Luxury Tours range from $1099 up to $3999 without including the price of the international flight. The cost of the entrance fees to all the historical attractions will range from 2$ to 10$.
The Cost of Accommodations In Egypt
There are a number of hotels located all over Egypt, a wide variety of tours from budget to luxury located all over the country that will suit all our travelers. The prices for a budget hotel are between 10$ to 50 $ which comes at two stars such as a number of hotels around Egypt that Pyramids Hotel, Desert Safari Home, Grand Hotel, Cleopatra Hotel, Luxor crown Hotel for an average charge of 15$ to 45$ a night. There is also a 3 stars hotel that costs 50$ to 150$ a night and 4 – 5 stars a night Luxury hotel comes at 150$ and more.
The Cost of the Food and Restaurants
The cost of the local street foods in Egypt is 1$ and 2$, the restaurant meals have their own price from 5$ and 12$ per plate depends on the restaurant but generally, the food is very affordable. A normal fast food meal in Egypt costs about 5.10 USD (80 EGP) for BurgerKing or a McMeal at McDonald's, and 1.50 USD (24 EGP) for a cheeseburger. For coffee drinks: cappuccino coffee is for 1.90 USD (31 EGP) and espresso is for 1.40 USD (21 EGP). Tipping in Egypt is optional, known to be between 5% to 10% of the total cost of the meal.
What to Pack For a Budget Tour in Egypt
Every traveler on a budget should pack everything they could ever need such as necessary medical descriptions and a VPN line, a universal travel adaptor, a Sim Card for 17$ which gives 10GB for 30 days. Every traveler should bring a back bag to put all your important things in it. Every traveler should bring all that they need and pack light clothes made from soft materials plus light shoes to move easily between the lands of Egypt.
The Most Affordable Nile Cruises
There are a number of amazing Nile river cruise where every traveler on a budget will get to discover all the history, allure, and grandeur between Aswan and Luxor. For Example, The standard Nile Cruise starts at 450$ for a person-a in 3 days cruise. Some of the most affordable Nile Cruises is the Movenpick Royal lotus, the Rosetta Nile cruise, the smile Nile cruise, Splendor Nile cruise, Queen Nefer Nile cruise, and the Movenpick Royal Lily that offer the most affordable prices accompanied with the best 4* stars service with all the best facilities found on this floating-hotels such as equipped rooms, gift shops, Discotheque, game room, spas, daily parties, oriental shows, and many more
Best Activities for Egypt Budget Tour
There are a number of entertaining and fun activities ready to be experienced across the ancient cultural and historical attractions of Egypt such as boarding a magical dinner cruise across the Nile in Cairo, shopping across the streets of Cairo like Khan el Khalili Bazaar, and exploring all the museums of Egypt. A super safari across the Sahara is a unique chance to witness the natural miracles of the western desert and discover the unique ancient Bedouin culture. The tropical attractions of the red sea include some incredible city resorts such as Sherm El sheik, El Gouna, Hurghada, Marsa Alam will offer a number of entertaining water sports like diving, snorkeling, fishing, surfing that will showcase the full miracles of Egypt.
Travel Insurance Is the Best Decision to Make
Every traveler on a budget will feel very safe and prepared for any surprise incident like repatriation, delays, cancellations, medical expenses, and Passport, baggage, and personal liability coverage as soon as they buy travel insurance.
Transportation In Egypt
Transportation in Egypt is very easy like there is a Taxi everywhere and you can always use an Uber. There are many means to get around Egypt such as domestic flights, and trains that offer the most affordable prices.
Egypt is a traveler's paradise where everyone will get to have the best vacation of a lifetime at the most affordable prices.