Vikram Madan Wins 2023 Theodor Seuss Geisel Honor
India-West Staff Reporter
NEW ORLEANS, LA – The American Library Association has awarded a 2023 Theodor Seuss Geisel Honor to 'Owl and Penguin,' a children's book by Indian-American author-illustrator Vikram Madan, published by Holiday House.
The Geisel Award and Honors are given annually to the authors and illustrators of the most distinguished American books for beginning readers published in English in the US during the preceding year.
Award winners are recognized for their literary and artistic achievements that demonstrate creativity and imagination to engage children in reading. Award and honor book recipients will receive their awards in Chicago during the ALA Annual Conference in June.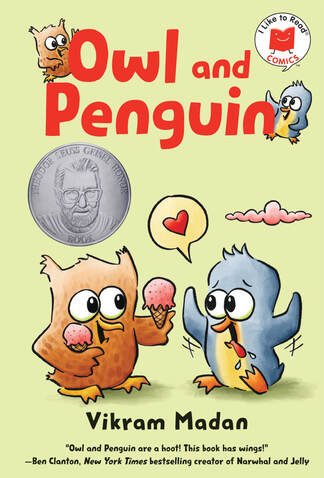 Owl and Penguin is an early comic reader consisting of three short chapters. The two support each other and find humor in sharing ice cream, attempting to fly, and enjoying a rainy day. The innovative story-telling format in the book, consisting of expressive visuals in comic book format, minimal narrative text, and characters who converse visually with emoticons, makes the book appealing and accessible to emerging readers, pre-readers, and struggling readers, and allows young children to independently develop their reading skills and feel confident about their reading abilities.
Kirkus Reviews has previously praised the book: Reminiscent of the strong bond between Arnold Lobel's Frog and Toad, Owl and Penguin's friendship is deep and delightful, and this easy reader makes the story comprehensible … in an accessible and entertaining way.
Author Madan said, "My goal was to create a book that would be accessible and engaging for the earliest readers, independent of their reading abilities. I am humbled that my vision resonated so well with the award committee. Reading transforms lives and the sooner we get children to embrace reading, the sooner each child can start to unlock their own potential."
Madan grew up in India and now lives near Seattle where he left a tech career to follow his heart into painting and writing books for kids. He is the author of several well-reviewed books.
The Theodor Seuss Geisel Honor Award is named after the famous children's author Theodor "Dr. Seuss" Geisel.
For more: www.vikrammadan.com