Table Tennis Player Subham Kundu Making A Name For Himself In US, Mentoring Next Generation
Photo : Professional table tennis player Subham Kundu (left) won gold in the Doubles category at the 2021 U.S. Open
Table Tennis Player Subham Kundu Making A Name For Himself In US, Mentoring Next Generation
By REENA RATHORE
MILPITAS, CA – It is never too early to begin working on your dreams. Subham Kundu remembers the first time he saw table tennis players in action; he was just 5 and was visiting a neighborhood club in Kolkata, India, with his father. He was instantly drawn to the game.
"I was so amazed to see how fast they were moving from one corner to another of the TT table and how fast they were playing. Eventually, I started going there to learn, and I still remember, after my practice sessions, I used to sit in a corner and watch them play. I used to love the typical sound of the TT ball while they used to practice and I still love it," Kundu told India-West.
By the time he turned 9, he had started playing professionally, both at the state level and national championships. After a brilliant 15-year run in India, Kundu moved to the U.S., bringing along with him not just his winning streak but also his drive to nurture the next generation of players.
He had a hugely successful outing at the 2021 U.S. Open, finishing in the Top 8 in the 30 and Over Men's Singles category, and winning a gold medal in the Doubles category where he was paired with Vishal Sivakumar, 12, whom he had been mentoring for the past two years.
The professional athlete, alongside shaping his career in the U.S., is mentoring kids at the table tennis club at the India Community Center in Milpitas which has produced some of the country's top table tennis stars and has served as a launchpad for several U.S. Olympians.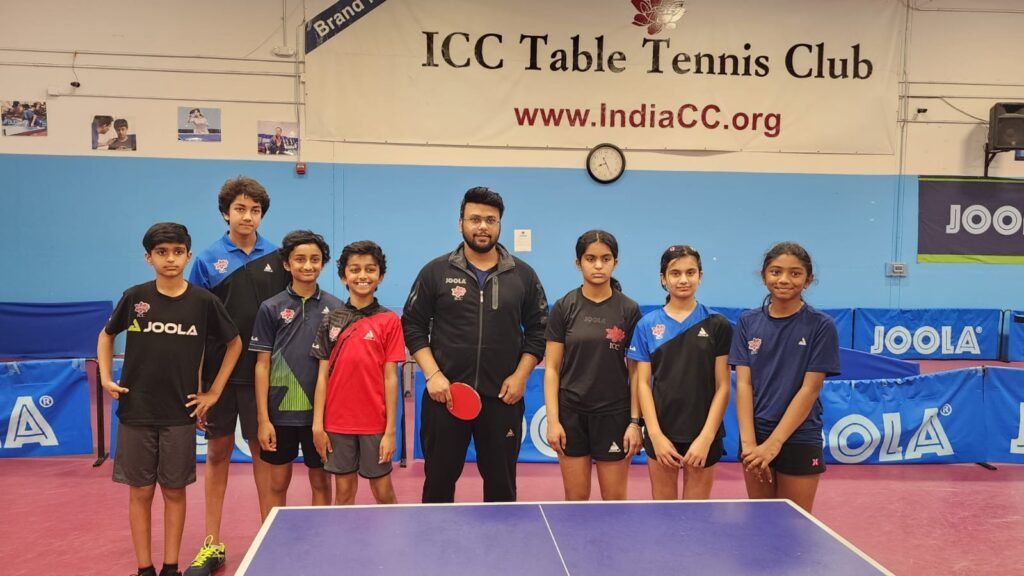 Describing the U.S. Open – which featured participants from across the world – as "one of the biggest tournaments in my career," Kundu said: "It was also a huge success for me as under my mentorship and help, a bunch of young talents from ICC won medals in this prestigious tournament."
Inspired by his dad, a soccer player, Kundu noted the impact table tennis has had on his life, saying the game has helped him build resilience to overcome tough situations in order to be successful.
"I consider table tennis to be my lifeline. It teaches you a lot of life lessons – mental strength, physical endurance, strategic thinking, making real-time decisions under pressure, bouncing back from a difficult situation, and most importantly, respecting your opponent," the young sportsman told India-West.
Kundu's first significant win was a bronze in the U-14 Singles. After a string of wins, in 2001 and 2003, he was recognized as the 'Best Sportsman Of The Year' by Telegraph. He won a bronze in the U-21 category at the nationals and brought home multiple gold, silver and bronze medals representing the Indian Railways (2008-2011) and the Central Government Agency, CAG.
In the U.S., he won a silver (doubles) and a bronze (singles) at the 2022 Joola Global Championship. He was part of the national coaching team as a mentor in the national training camp for the prestigious Pan American Championships in 2022.
Recalling how his association with ICC came to be, Kundu said he first met Rajul Sheth, director of sports and recreation at ICC, in India during a tournament and was invited to visit and train with the ICC Olympians.
"My first trip to ICC was in the summer of 2013. I trained under Massimo Costantini who was then the head coach at ICC and is also known as one of the best coaches in the world. I also trained with Olympians Timothy Wang and Lily Zhang. I visited ICC a few more times in 2015, 2016 and 2018 upon invitation. I was given an offer to play for the club as a full-time athlete in 2018 and I accepted," he explained.
Moving to the U.S., he said, gave him an opportunity and a much bigger platform to showcase his talent and further evolve as a player. But it also meant leaving behind the comforts of a well-established career.
"That was the toughest decision in my sporting career – on the one hand, ICC was offering me an opportunity to compete with the best in multi-national events. On the flip side, I was an established player in the Indian TT circuit with the Central Government of India sponsoring my costs by employing me through sports quota. What this meant, I was receiving a monthly salary which would cover me while I could be a full-time professional player competing across India," he told India-West. "I finally decided to follow my dream and passion with TT."
It's is a full-circle moment for Kundu who said he believes in sharing his learnings with young talents in the U.S., and wants to nurture them and catapult their career to the next level.
"When I see them receiving medals on a victory podium, I reminisce about my old days and get the motivation to work even harder to make them even better," he said.
The India Community Center has a state-of-the-art auditorium and a structured program called Talented Kids Program to help players realize their full potential. And Kundu said he is helping modernize this program by introducing technology and analytics to tailor specific training regimens for them.
"We identify and hand pick young talent from our annual summer camps and the journey begins. Under my close watch and care, there are 15 kids whom I am mentoring and practicing with every day," he told India-West. "They have started winning medals in four-star tournaments (top-rated) in the U.S., and have also won medals at the US Open, US nationals, and multi-national tournaments like Joola Global Championships. They are also representing Team USA in Junior teams (U-13, U-19 and are working their way up to represent the senior team in the future."
He went on to give a shout-out to some of his mentees, saying, "Watch out for my wards, Ved Sheth (2022-23 U-19 national team member), Vishal Sivakumar (U-13 2022-23 national team member) Shrirang Krishnaprasad (US Open 2021, 2022 medal winner), Rachel Purwar (US Open 2022 medal winner) and Tanisha Bala (2022 Joola Global Championships medal winner)."
Kundu concurred that table tennis has grown in prominence over the past few years, moving away from its recreational sport image.
"The popularity is growing and we can see that with the growing number of participants along with patrons, sponsors and spectators at national tournaments. Given the competitive nature and quality of players, it requires a decade-long strenuous preparation focusing on physical fitness, mental toughness, increased skill level and game strategy to make it to the top," he noted. "On an average, professional players like us, and some of the TKP wards, invest 40-50 hours a week in addition to physical fitness and game planning."
He continued: "The path for players to turn pro is by competing in various state level, national and global tournaments conducted / recognized by USATT…where they gain exposure to top professional players and coaches. Accomplished players also get opportunities to compete in professional leagues and pro tours where the sport has a higher level of recognition and financial support."
His ultimate dream, Kundu said, is to put a spotlight on the sport and be recognized as its brand ambassador.
"I want to continue to pursue my personal goals: to compete against the best and win laurels for ICC and the nation. And it is my vision to ensure players from ICC not only represent but win medals for the U.S. at the Olympics. My life's dream will be fulfilled when the national anthem of the U.S. is played at the 2028 Olympics to honor a table tennis victory," Kundu told India-West.