Massive Ravan Effigy Lit Up At CA Alameda County Fairgrounds
India-West Staff Reporter
PLEASANTON, CA – The Alameda County Fairgrounds here, came alive with the annual "Dussehra & Diwali Dhamaka" celebration, presented by the Association of Indo-Americans and Bolly 92.3. This signature event was a testament to the rich Indian culture and the collaborative efforts of over 45 Indian organizations in the Bay Area.
Organizers estimated a crowd of more than 20,000 attendees filled the fairgrounds throughout the day, with a continuous flow of visitors. As the evening approached, the surrounding parking lots and roads were flooded with excited onlookers eager to witness the evening's highlights, including the grand Ravan Dahan, a dazzling fireworks display, and the energetic Disco Dandia.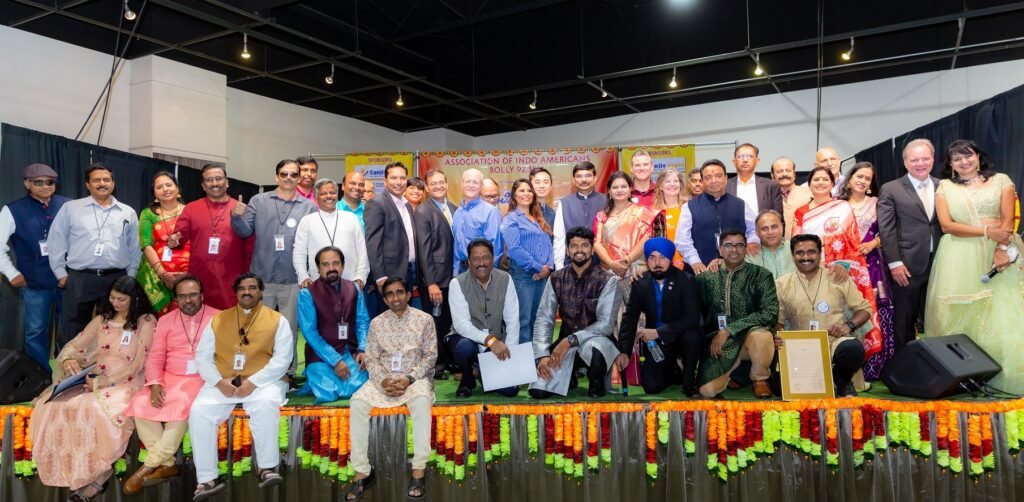 Distinguished dignitaries and local elected officials, including Alameda County Supervisor David Haubert (Co-Host), India Consul General Dr. Srikar Reddy, State Senator Dave Cortese, Assembly members Liz Ortega and Alex Lee, and Alameda County Supervisors Elisa Marquez and Lena Tam, were in attendance. Mayor Carmen Montano of Milpitas, Vice Mayors Michael McCorriston and Jack Balch, along with Council members Raj Salwan, Sridhar Verose, Jean Josey, Marisol Rubio, and Sherry Hu also graced the gathering.
The festival featured the largest Ravan effigy in North America, standing at an impressive 30 feet, symbolizing the victory of good over evil. A breathtaking fireworks display, lasting approximately nine minutes, painted the night sky in celebration of the festival of lights. Traditional prayers and poojas, including the "Maha Mangal Aarti" to goddess Lakshmi Devi, were performed throughout the day. The "Rath Yatra" witnessed a significant number of participants in a grand procession at the venue. Disco Dandia kept the energy high until the end of the event, with participants of all ages taking part. A live music concert featuring singers from the Association of Indo-Americans, Bay Area Telugu Association, and East Bay Karaoke groups added to the entertainment.
The venue was transformed into a shopper's paradise with over 100 stalls offering clothing, jewelry, home decor, real estate, and educational materials. Attendees could also participate in Rangoli competitions, Diya making, Carroms and Chess competitions, and various carnival games. This year, the addition of Tambola attracted over 1,000 participants. Food enthusiasts were not disappointed as local restaurants at the venue set up a Food Festival, offering a wide variety of delicious dishes.
Younger attendees had a blast in the Kids Play Area, while families took part in the fashion show "ROSHNI" and Ram Leela. The Lakshmi Puja Laddu was auctioned to share the blessings of love, health, and wealth with the community.
The "Dussehra & Diwali Dhamaka" once again succeeded in capturing the essence of these cherished festivals, uniting the community, and celebrating the rich tapestry of Indian culture.