6 Celeb-Approved Nude Eye Makeup Looks
Try these methods for creating the ideal nude eye makeup appearance if you want to create a lovely and stylish look.
Brown Eyeshadow
On days when the classic black eyeshadow seems a bit too OTT, then there's brown to the rescue. A brown smoky eye will make your eyes pop without looking too much. It's also perfect for a day look. Moreover, it looks so good that you can easily wear it at work. Along with a little blush and kohl, you'll put together an iconic look.
Shimmer Touch
If you're a gal who loves her bling just like Disha Patani, then this look is for you. Opt for shades like dark brown, dull golden or silver that add the right amount of sparkle for a nude eye makeup look. Add a couple of coats of mascara and tons of lip gloss for a dewy, shimmery look. We'd suggest a liquid eye shadow that's super easy to use and highly pigmented, so you don't need to be a pro for using these.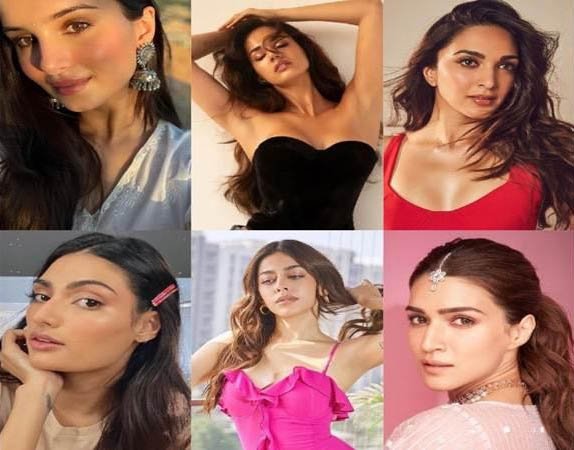 Glossy Gush
Glossy – followed by anything will always be a hit. Kiara Advani wears sheer eye shadow on her lids along with thick black eyeliner and glossy lips and looks breathtaking! One neat way to recreate this look is by using the highlighter on your lids and your cheekbones. Then pick a tinted gloss for your lips, and you're good to go! SUGAR Cosmetics' Own the Light Liquid Highlighter is perfect for this job. Its high-shine finish and blindable consistency make the job very easy and quick.
Pastel Eyes
If we're talking about a nude eye makeup look, why not actually apply a matte nude eyeshadow? To create Athiya Shetty's easy-breezy look, pick a color that's closest to your natural skin tone. Apply that shade as a base and then blend it out with a color that's slightly darker. This will add some depth and warmth to your eyes. Lastly, seal the deal with multiple coats of lengthening mascara and you're done! This natural eyeshadow look is perfect for coffee dates!
Soft & Subtle Nudes
If you've got small eyes, then listen closely. Because this pastel pink nude will not only bring out your dive vibe but also make your eyes pop. Just like Alaya F, apply a white kohl on your lower lash line to make your eyes look wider and more awake. The little shimmer action that's going on is a big plus and elevates this simple look.
Pink Wink
Pink will always remain a cult favorite! Take a leaf from Kriti Sanon's minimal pink eyeshadow look that's simple yet elegant. You can get her look by applying a nude pink eyeshadow as the base and then blending a slightly darker pink shade on the outer corner. If you want to make it pink-er you can apply a sleek line of our pink eyeliner too!
(IANS)