AR Rahman's Keeps Audience of Stars & Music Lovers in Thrall at Hollywood Bowl
By NIMMI RAGHUNATHAN
HOLLYWOOD, CA – Fans, stars, music lovers, and season ticket holders out to shoot the breeze, it didn't matter – they simply clapped, rocked, and danced to the rhythm and melody of the genius that is A.R.Rahman, arguably the only Indian today, whose musical sensibility can get a crossover crowd of over 17,000 that is Western and Indian; north Indian and south Indian to roar in unison.
On July 24, the Hollywood Bowl was the scene of a truism: music is a universal language. So it was, that Americans who knew little of Indian music or movies simply participated in the joy of it all with little to no help from Rahman and indeed anyone else on stage bothering to set any of the musical numbers in context or explain the lyrics. It didn't matter.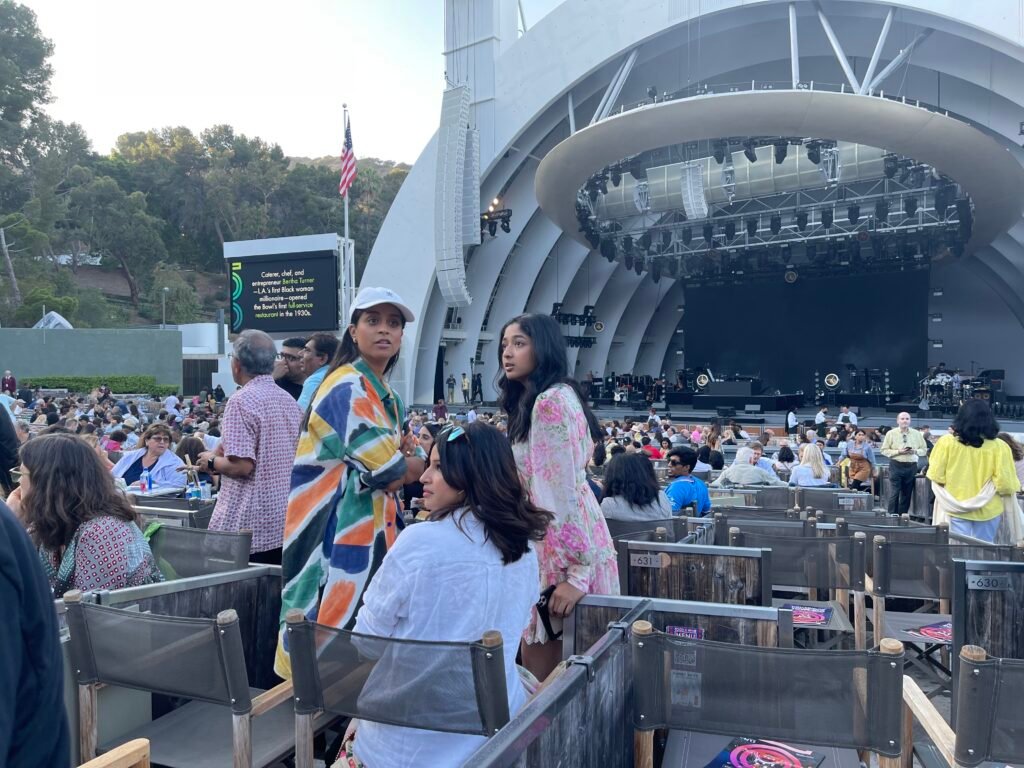 There were turbaned Indians and stars like YouTube sensation and talk show host Lily Singh along with actor Richa Moorjani from 'Never Have I Ever,' grooving to a Tamil rendering of 'Mustafa, Mustafa.' And when Rahman switched to the Hindi, 'Taal Se Taal,' South Indians didn't miss a beat either.
Never a showman, Rahman nevertheless seized attention with the opening 'Jai Ho,' and with sheer musical talent managed to retain a tight grip over the crowd for the next two and half hours.
His signature techno beats dominated but there was subtle melody too with numbers like 'Enna Solla Pogirai,' and 'Itna Sona Rab Ne Banaya,' among others, to which the crowd quietened. When he mumbled an instruction it gained an electric response with the rapt audience whipping out their phones and swaying to 'Dil Se Rahe.' When he brought along, as he is wont, a Sufi rendering – 'Kun Faya Kun' – complete with the singers wearing the taqiyah or the Muslim prayer cap and Islamic visuals as a backdrop, no one danced, just as he intended.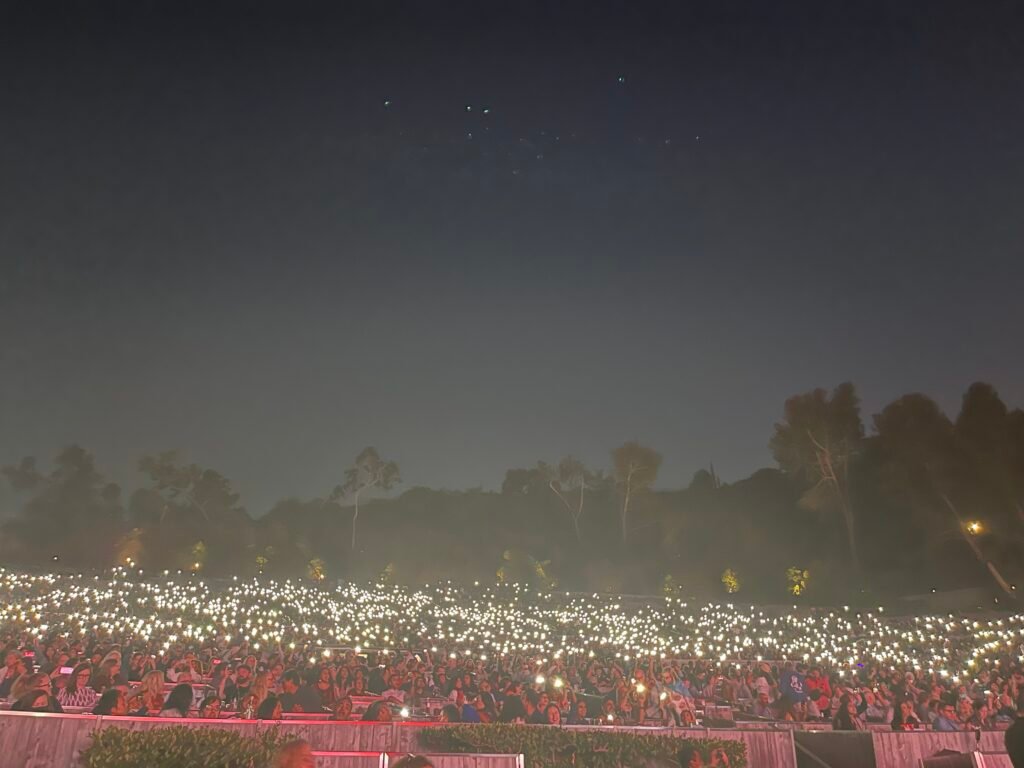 Perhaps in keeping with his introverted presence, colors and technology were employed to add the pizzazz. The electronic screen that formed the backdrop freed Rahman from having to talk too much in a segment that delved into Indian ragas.
Referring to his 1992 debut, the composer said he often drew inspiration from India's rich classical tradition. For the audience, there was some delightful learning involved: the hit 'Kya Hua Kaise Hua' emerges from the raag Puriya Dhanashri; he wanted to "have fun" with Dharmavati so he gave the world 'Ottagathai Kattiko'; Bhimpalasi birthed 'Taka Taka Taka Jhum.'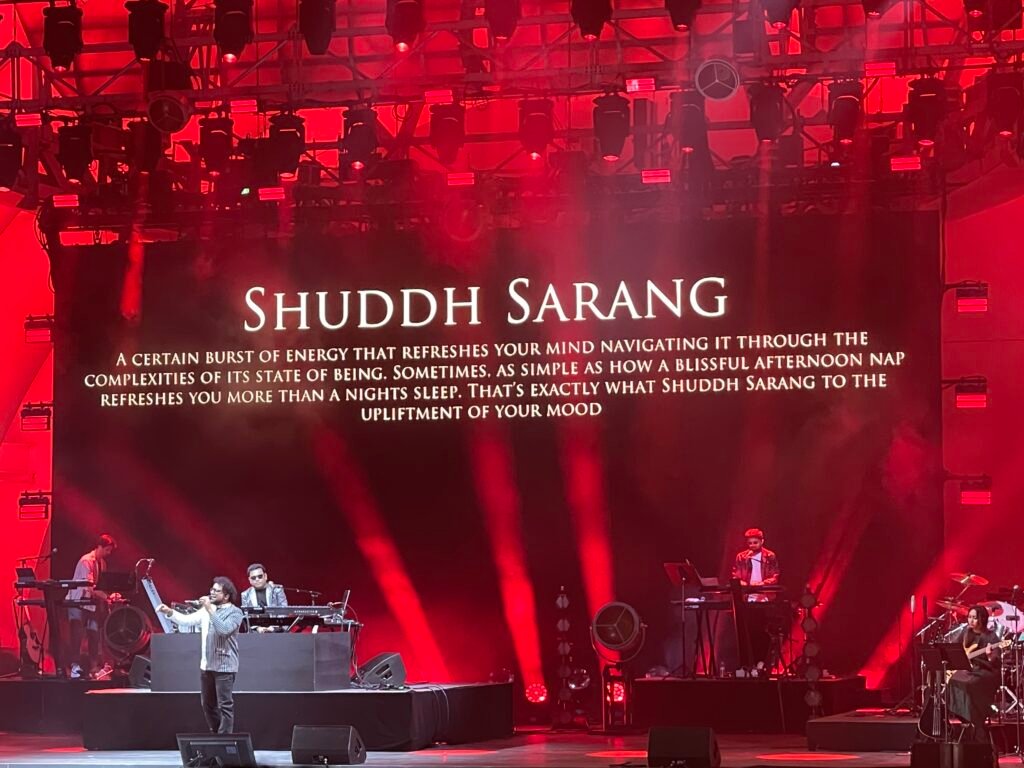 Through the non-stop musical evening, Rahman's several vocalists sang his evergreen hits, 'Param, Param, Parama Sundari,' 'Radha Kaise Na Jale,' and 'Muqabala' among others.
He ended the concert the way he started: up-tempo. Every single person stood and almost everyone, including musician Anoushka Shankar and actress Poorna Jagannathan, were on their feet dancing to the Hindi and Tamil versions of 'Chaiya Chaiya,' 'Urvasi,' 'Hama Hama' and 'Mustafa.' The roar of the crowd seemed louder than the music. And then, it ended.
A. R. Rahman left the stage has he had entered it a couple of hours ago – quietly smiling and without fuss.