Arun Majumdar Named Inaugural Dean of $1.1.Billion Stanford Doerr School of Sustainability
Arun Majumdar, the Jay Precourt Professor, rofessor of mechanical engineering, and senior fellow and former co-director of the Precourt Institute for Energy, will be the inaugural dean of the Stanford Doerr School of Sustainability. (photo: Edward Caldwell/Stanford.edu)
India-West Staff Reporter
PALO ALTO, CA –  Indian American Arun Majumdar, an internationally recognized expert in advanced energy systems, new materials, electrical grids, and renewable energy, will be the inaugural dean of the Stanford Doerr School of Sustainability which launches on September 1, the university announced.
Majumdar is the Jay Precourt Professor, professor of mechanical engineering, senior fellow and former co-director of the Precourt Institute for Energy, and a senior fellow at the Hoover Institution, where he co-chairs the George Shultz Energy and Climate Task Force. He joined Stanford in 2014 after a career that spanned academic research and experience in industry, national laboratories, and government, where he led efforts implementing energy technology initiatives, the university said. Majumdar currently serves as the chair of the advisory board to the U.S. Secretary of Energy. After leaving Washington and before joining Stanford, Majumdar was the Vice President for Energy at Google, where he assembled a team to create technologies and businesses at the intersection of data, computing, and electricity grid.
Majumdar attended Mayo College in India, has a bachelor's degree in Mechanical Engineering from IIT, Bombay and got his Ph.D. from the University of California, Berkeley in 1989.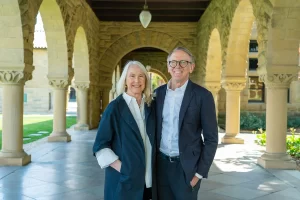 Ann and John Doerr have given $1.1 billion to create the Stanford Doerr School of Sustainability. (photo: Edward Caldwell/Stanford.edu)
"I am deeply honored and humbled by the opportunity to serve as the inaugural dean," Majumdar said.  "Building on the extraordinary leadership of Kam Moler and Steve Graham, we will not only harness the intellectual horsepower of our students, faculty, and staff across our campus, but we will also partner with external organizations around the world to co-develop innovative solutions and identify new insights through research and education. As is often said, we do not inherit the Earth from our ancestors; we borrow it from our children. We must collectively figure out how to create a future where humans and nature thrive together."
Majumdar will assume his new position June 15, Stanford News reported. At that time Kathryn "Kam" Moler, who has been transition dean of the school since December 2021 and has co-led the transition since May 2020, will resume her role as vice provost and dean of research, a role she has held since 2018. Stephan Graham, who has been serving as transition vice dean, will continue his role as the dean of the School of Earth, Energy, and Environmental Sciences (Stanford Earth) until the school stops operating September 1. The people, research, and academic programs of Stanford Earth will become part of the Stanford Doerr School of Sustainability.
"I'm thrilled that Arun Majumdar has agreed to take on this critical role," said Stanford Provost Persis Drell, who led an international search to identify an inaugural dean who is an eminent scholar and can advance the school's focus on impact.
"I am delighted that Arun is willing to serve as inaugural dean of the Doerr School of Sustainability," said Stanford President Marc Tessier-Lavigne. "This new school is a critical part of Stanford's focus on amplifying our impact in the world. He is an accomplished scholar who appreciates the importance of fundamental research to generate knowledge with transformative potential. And his exceptional leadership skills along with his deep experience in both industry and government will help the school have immediate impact in the world."