At White House State Dinner: Tagore, Spelling Bee, Cricket
Photo : The A Capella group from UPenn, Penn Masala entertained at the state dinner. Photo Credit @anandmahindra
India-West News Desk
WASHINGTON, DC – US President Joe Biden expressed his delight in hosting Prime Minister Narendra Modi at an official State dinner at the White House and emphasized that the occasion celebrates great bonds of friendship between India and the United States.
In a special address, Biden said, "Jill and I have had a wonderful time with the Prime Minster today, during your truly productive visit. Tonight, we celebrate the great bonds of friendship between India and the United States."
The two leaders also raised a toast to the successful meeting that happened between them, with Biden pointing out to gentle laughter from the audience that both leaders raising the toast do not drink. He dwelt on the two countries' historic ties and praised the contributions of Indian Americans.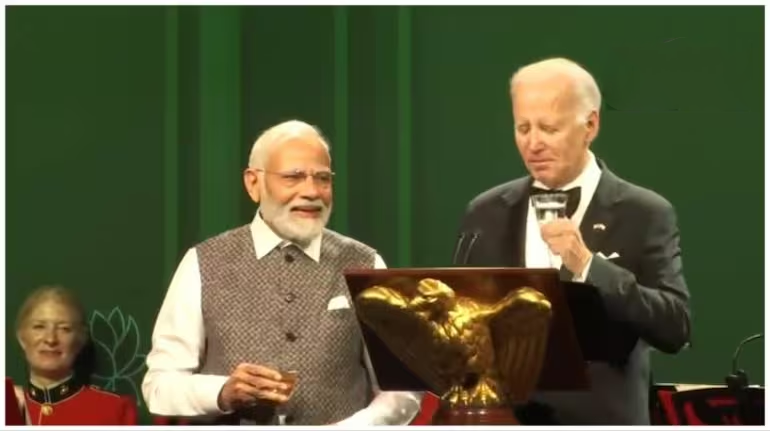 The President also spoke about Rabindranath Tagore's visit to the US, and his impact on the ideas here and invoked his famous poem 'Where mind is without fear.'
Biden said there are reasons the two democracies endure, allow, and reflect to renew generation after generation. "I see in my visit to India. I see in the diaspora here in America, in the arts, education, in media, law, medicine, science and businesses of every size, in Spelling Bee champions, and even in cricket clubs across the country, including back in my home state of Delaware and a record number of Indian Americans in Congress who are here tonight," the president said.
In his speech, Modi said, "Indian Americans have come a long way in the US and have always found a respectful place in America's Melting Pot. Indian Americans have played a significant role in further strengthening the inclusive society and economy of the US."
South Korean President Yoon Suk Yeol had sung 'American Pie' during his state dinner in April. Modi referred to it saying Biden's hospitality had moved his guests to sing and to laughter from the crowd, wished that he too had the singing talent so he "could have also sung a song." Modi recalled that during a dinner hosted for him in 2014, he could not eat anything as he was on a Navratri fast while Biden, then vice-president, often enquired with concern that if there is anything he can eat during the fast. "Your wish to feed me is now being fulfilled," Modi said.
Prime Minister Modi is visiting the US from June 21-24 at the invitation of President Biden and the First Lady.
More than 400 guests were invited for the dinner which was short of glam but had high-powered names including, tennis legend Billie Jean King, filmmaker M Night Shyamalan, fashion designer Ralph Lauren, entrepreneur Frank Islam, the Indian American lawmakers and their spouses Pramila Jayapal, Shri Thanedar, Ro Khanna, Ami Bera, and Raja Krishnamoorthi.
Only three Indian businessmen — Mukesh Ambani, Anand Mahindra, and Nikhil Kamath were on the guest list. Also on the list were OpenAI CEO Sam Altman, Apple CEO Tim Cook, and Google CEO Sundar Pichai. Other CEOs were Marriott's Anthony Capuano, GE's Larry Culp, Discover's Roger Hochschild, Cisco Systems's Chuck Robbins and Deloitte's Punit Renjen.