Imran Habib: Banking, in Near Future, Will be on Your Cell Phone
India-West Staff Reporter
NEW YORK, NY – Imran Ali Habib is the Executive Vice President & Chief Strategy Officer of the Manhattan headquartered Habib American Bank. Born into the prominent Pakistani business family that runs the House of Habib, this younger member of a family whose history runs back into the 1800s and a pre-independence Bombay, says he has always nurtured an interest in banking.
He learned the ropes early through osmosis and observing the family function: There was his late father Ali Suleman Habib, who he credits with being his strength, advisor, and role model; and his uncles, Reza Sulmean Habib and Muhammad Habib. Saleem Iqbal, the current CEO of HAB, has also served as a mentor, he says.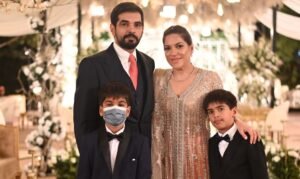 While his sensibilities may lie in a glorious past, family and tradition, his business sense is in keeping with the now and, envisioning the future. His banking career brought him to the US in 2016, via the UAE. From his offices in New York, he strategizes business development for the bank.
Habib explained that he is always innovating current technology and approaches. "Banking is different from other businesses because being a service-based business, the customer is the boss. You rely on the customer for deposits and advances, so you really must treat them right."
That credo has done well for the bank. HAB, Habib reports, has, "just surpassed $2 billion in assets. Our short-term goal is to keep growing at a similar level, to achieve $4 billion in assets over the next 6 years." Indeed, he hopes to keep that clip going saying, "Our long-term goal is to see HAB continue to grow over the next 50 years."
Asked what Citibank closing so many of its consumer banking operations meant for his bank and the industry in general, Habib said, "We are not in the consumer banking space at HAB, but it does reflect that this business is a very high risk one."
In fact, he says, "My advice to an entrepreneur who plans to start a new bank today would be to try and also look out for another business as banking is very capital intensive and has low returns with very high risks."
He also pointed out that the banking system, in general, "needs to remodel its operations." In his mind, things need to get more, "customer focused and more digital. The future of banking," he says, "is in your cell phone. 25 years from now, banking will be all online, all digital."
But innovation and modern management aside, Habib stands by time tested values. The "success of Habib Bank in the last 50 years is in large part because of consistency, patience, hard work and luck," he says.
He has passed on that advise to his young sons, Aryan,10, and Zayan, 8. "They should follow their dreams and passions but work hard. There are no substitutes for hard work."
A family man, Habib makes his home in New York with wife Zara who is currently doing her medical residency in psychiatry at St Barnabas Hospital in the Bronx. He says, "she is very supportive and pushes me every day to be a better father, husband, and human. She is the backbone to my success."
In the House of Habib stable of companies, the banking executive is also on the board of Indus Motor Company Limited (a joint venture with Toyota Motor Corporation & Toyota Tsusho Corporation of Japan), Shabbir Tiles & Ceramics Ltd. and, Thal Ltd. Habib also devotes attention to social welfare with education being of special interest. He is the Vice Chair on the Board of the Habib University Foundation US.
Between all these multiple roles he plays at work and home, Habib also makes time to enjoy golfing, skiing, reading, and playing soccer.
Habib is a business graduate from Bryant University and has attended the Program for Leadership Development at Harvard Business School. He is also a member of the Young Presidents Organization in Pakistan and New York.