In Washington, Jaishankar Meets with Counterpart Tony Blinken
India-West News Desk
WASHINGTON, DC – External Affairs Minister S. Jaishankar on April 11 tweeted pictures of himself in the capital with Secretary of State Tony Blinken.
"Began the day with a breakfast meeting," with Blinken, he reported, adding, "wide ranging exchange of views on the global situation,regional hotspots and bilateral cooperation. Took place with the comfort and openness of true strategic partners."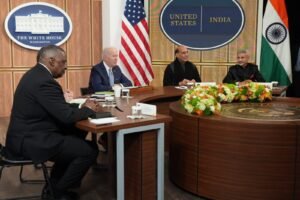 He also tweeted out an image of himself meeting President Joe Biden who had a virtual meeting with India's PM Narendra Modi. "Privileged to participate in the Modi-Biden Virtual Summit today," posted.
The Defense Minister of India, Rajnath Singh too who was present along his counterpart Secretary of Defense Llyod Austin, posted an image with Biden and a shot of the meeting itself.