International Talent Mobility – The Key Competitive Asset For Investment To Canada
India-West Staff Reporter
LOS ANGELES, CA – The Consulate General of Canada in Los Angeles partnered with a Canadian law firm, Greenberg & Hameed PC, on May 24 to organize a networking reception focusing on investing in Canada and business immigration. Greenberg Hameed PC was joined by their new partner in California, Chugh LLP. Both firms implement advanced immigration-talent strategies for companies around the world and across all industries, from start-ups to the largest global organizations. Chugh LLP has 11 U.S. offices as well as affiliates in Canada, India, Pakistan, and South America.    
The networking reception was designed to bring together the Consulate's current investment leads, especially those who have expressed interest in relocation of staff to Canada. Through Chugh LLP, the Consulate was also able to invite companies with whom they work; U.S. subsidiaries of large groups from India, also selected contacts from local industry associations, e.g. TIE SoCal, an entrepreneurial organization with dominant links to Indian companies in Southern California, as well as companies from California owned or managed by Indian nationals. Those companies are from varied sectors, with a higher concentration in tech.  The Consulate welcomed a total of 16 different potential investors to the reception.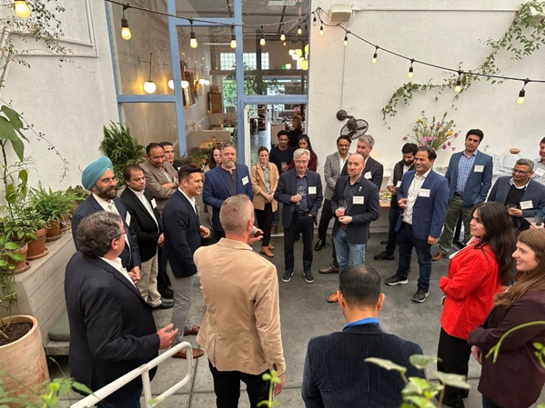 Local investment representatives from Ontario, British Columbia, Alberta, and Quebec were also in attendance. This networking reception cemented foreign direct investment opportunities, as well as business opportunities for Canadian investment attraction agencies with local investors. Up to four members of the Consulate's trade team attended the event to facilitate and increase connectivity and discussions, as well as two members of the Immigration, Refugees and Citizenship Canada (IRCC) team as the event also focused on business immigration. Consul General Zaib Shaikh as well as the Consulate's partners provided short remarks on doing business and investing in Canada.
During the reception, the companies in attendance were able to discuss their Canadian strategies with the local investment representatives and lawyers in attendance.
The Consulate General of Canada's team is planning on continuing the partnership with Chugh LLP and explore similar events with the Chugh team and TiE SoCal.