Interview. Varun Grover Experiences Life So Intensely, He Can Feel Crippled. Yet, He Makes You Laugh
National Award winning Varun Grover, has turned his talent to directing. His film All India Rank will be the closing feature at the Indian Film Festival of Los Angeles running from October 11-15.
By NIMMI RAGHUNATHAN
He is a Renaissance man.
Varun Grover writes hit stories (Masaan, Sacred Games). Poetry, that becomes an anthem of protestors (Kagaz Nahi Dikhayenge, for those refusing to cooperate with the government in proving their citizenship). Thrives on observational humor…the online robot wants to know if you are human! There is lyrical beauty (National Award winning Moh Moh Ke Dhaage from the film Dum Laga Ke Haisha). Poet, comedian, lyricist, fiction writer, screenwriter, actor (Qala, Bombay Velvet), creative cook, cat lover, and now, director (All India Rank), Grover is an artist's artist. 
The outpouring comes from a fire not seen in his demeanor which is thoughtful and measured. It comes from a place that encompasses a deep caring for society. Because of this his eye turns to freedoms, gender fluidity (he intentionally wears nail paint), climate change, inequities in education and economy. With all this, Grover cuts to the chase, wraps it in humor or beautiful words and presents it neatly to us, showing us the complex dilemmas, hidden strengths and vulnerabilities, that make up who we are. And because of this, his deadpan words delivered in standup routines get millions of online hits.
Sensitivity to the world sparked early. He was first published at 10, when heartbroken after reading a poem of a boy who was separated from the sparrow he had tended to, he wrote a short story reuniting them.
Thanks to his father, he grew up surrounded by books and a plethora of Hasya Kavi Sammelans in small town India that informs many of his works, including his new directorial, All India Rank. He has recalled being obese, being bullied in school and finding relief in writing and discovering the beauty of language. He went on to IIT to get his engineering degree and then after the classic left brain right brain duel, got away from a career in corporate India and began writing for TV in Mumbai (The Great Indian Comedy Show).
He also met his wife Raj Kumari, a writer and poet who then lived in Delhi. Drawn by each other's works and world view, they decided to marry which brought forth caste and regional issues – He is a Khatri Punjabi from Haryana, and she is a OBC Teli from Jharkhand. She became the first ever woman in her family to marry outside her caste and paved the way for independent thinking women.
In California for the Indian Film Festival of Los Angeles, where All India Rank will be the closing film, Grover spoke with India-West. Excerpts:
Q: Your first published short story was about giving a happy ending to the story of a boy and a sparrow. Are happy endings still important to you?
A: Yes. (Chuckling) Except I won't call them 'happy endings' anymore but 'hopeful endings.' The world is so difficult, there is depression and oppression. People come to art for solace and make meaning of the world around them, I want to give hope, positivity, a sense of belonging.
Q: So, when you write you know the ending?
A: I don't know the ending. Sometimes I have multiple endings and struggle to pick which one. For example, Masaan had multiple endings and we even shot another one which had a more definite ending instead of the one that we kept which was more open ended. All India Rank too had many endings. Many wanted a definite end but here we are. It is a feeling…the closure comes when it comes it comes. So yes, the writing is organic.
Q: What is needed to be a writer? Is sensitivity enough?
A: What is most important is understanding your own internal world. Being sensitive to your own feelings, to your own various emotions that happen even in the space of five minutes. The power of observation is a very good tool to have. It enhances the ability to do multiple kinds of writing. If you have this mix, then you can create anything. But the prerequisite is to be in touch with the internal world.
Q: You mention the Mirza Ghalib verse often, 'As if the sound of pen on paper is the whispering of angels in my ears.' Why do you relate to it?
A: A lot of people want to know how a writer writes, every week I get questions. I have thought a lot about it and tried finding the answer. There is no answer. I have really tried a lot. If for instance I think about the writing of a line of Moh, Moh Ke Daage, I can go back to the day, I know the mood and I can give you other specifics, but I can't tell you how the words popped out. I just cannot. That's why I relate to Ghalib's words. It feels poetic, the most complete explanation. The word 'angels' is a stand in for mood, preparation, childhood trauma, or whatever else.
Q: How do you view life? Absurd which lends to comedy or beautiful which makes you string literary words to create beauty?
A: I am the kind of person who swings between extremes. I see every emotion in its extremity. It is a problem. I get overwhelmed and it becomes difficult to function sometimes. I channel all this into my work. If it's stark it goes into cinema, if it's childlike then into books for children. I try to make sense of life this way, it is difficult for me to process it without doing something about it. I see all of life as a muse. It allows me to express, and it doesn't matter if the world gets to hear or see it. For me it almost feels like nausea if I don't write what I feel intensely. My system is cleaned when I write.
Q: Does it get tiring to care so much?
A: Yes, it does. I don't know how not to care. I try! I sometimes feel the world is pointless, but you can't live with that feeling. You must care for yourself also and I don't do enough of it. Comedy gave me hope as a child. I used to watch Movers and Shakers by Shekhar Suman; it made me feel better about the life that we were leading. In UP there would be 16 hours of power cut in summer and in winter there would be 6am coaching classes I would go to. Comedy was a coping tool: life was not just difficult; it was funny too.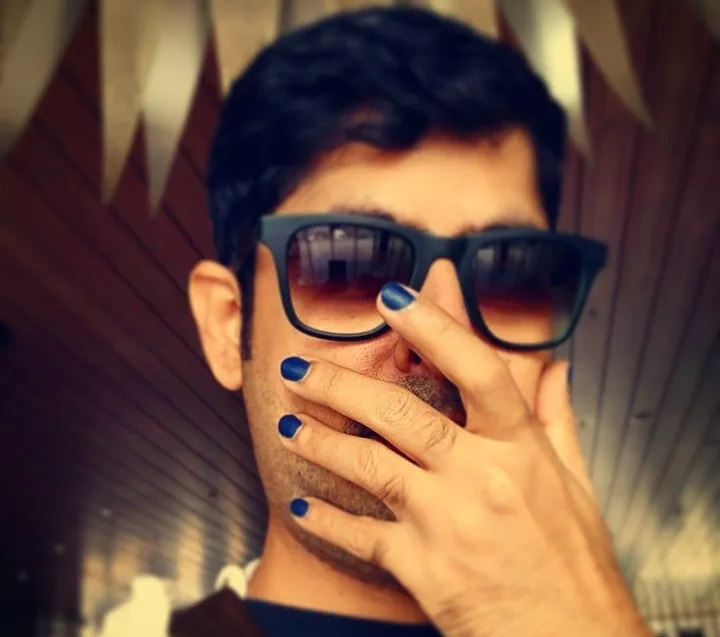 Q: If a fan has to visualize you writing your comedy, how would it look?
A: I'm usually laughing when I am writing. Then I do about 20 trial shows. I go with my notes and some ideas for a punchline. I interact with the audience; I need that feedback. I can't work in a vacuum. A joke completes itself while on stage. Sometimes I take a break in the trial shows because I have laughing fits, and the audience laughs that I am laughing at my own joke. After all this, I am ready to take it out to the world.
Q: How do you feel when you get called 'brave' for your comic routine?
A: I don't want to hear it. But I understand that it comes from concern and is a form of encouragement. I want to be funny, that's all, and know that it helped us all laugh. We are increasingly in a world where there are incentives for people to spread fire. Art is the easiest to attack. There is boycott against films they haven't even seen because political mileage is all that they want. For comedians it's scary, we stand in front of groups with no security. It is concerning but I wish it was not part of today's conversation.
Q: You criticize those in power and yet Bollywood is not scared off and works with you.
A: The sense of Bollywood I have…what works commercially is the priority. Luckily for me, some of the stuff has worked commercially and critically and that's what has mattered. We still get messages every week about Masaan. Sacred Games became huge. This has helped me. Second, Bollywood has a lot of liberal minded people who understand the value of art and that art is meant to join, not divide heads and hearts.
Q: How do you come to nuance in your comedy?
A: Through observing the world, I have figured that everyone has many, many sides. That's made me believe there are nuances to every headline. Even the oppressor may have a tragic backstory. We as artists should not negate that story. What is the point of art if you forget compassion and empathy? That would just make it a political speech.
Q: Is there anything you won't joke about?
A: Not really. Everything is fine if my moral compass allows it. Dynamics keep changing across eras, but the heart of the joke must have the right conscience.
Q: What does Jaane Bhi Do Yaaro mean to you? It's your social media header.
A: (Laughing). That film kept changing for me over the years. As a child it was slapstick and about a dead body going around town. In college, it became about corruption. A decade later, it became about human corruption, no one is clean. In the last decade, it has become a film about the bleakness of life, the general dystopia we call human civilization. It makes sense to me at a more ethereal level as a human tragicomedy. And the thing is it was not designed to be all this!
Q: You have made All India Rank. Is directing, producing, or writing more challenging?
A: Direction was very exhausting, tiring, demanding, but very fulfilling. As a writer you sit and watch someone bring the words to life and have the feeling it will not be interpreted right. Or the actor may not be up to it. As a director you have the option to fix everything. It was empowering and scary, but I wanted to take it on for my own sake, to see how the transition happens from paper to film. For a year it consumed me. I learned that you could create without words, just with expression or light or sound. That was fascinating and I am hoping to make more.
Q: What's the nail color paint you wear today?
A: I am sure it has a fancy name; I see it as a light pastel blue.
Q: What differences have you observed between American masculinity and the Indian version?
A: Indian masculinity has a Devdas side which is missing here. They constantly whine, playing victim. It's a hero type in India. The constant discourse over the past 70 years is about this "Bechara." Then this Devdas becomes revengeful and violent. It could be about a woman cheating, money being stolen, some caste thing. All kinds of conspiracies. In America, I think it is toxic but visible. A muscular, powerful kind of thing.
Q: What is it about Indian men and peeing, even on planes?
A: They get a sense of power which they feel was lost in their conspiracy theory. It comes from that sense of anger and entitlement, and they will try to get away with the ugliest thing, not just with a slap or words. To prove their entitlement they go public, making videos of it.
Q: What's special about cats?
A: They are the most elegant, beautiful creatures! They make me speechless. They have a strange energy…it's like they say, 'I will comfort you, but when I want.' Cats are like difficult puzzles and when you crack it, you feel enriched and accepted and I feel like I want to play more of this game. But the next day, you start right from the bottom!
Q: What does cooking do for you?
A: Its relaxing and meditative. It's another kind of writing, I look in the fridge and concoct with what is there. It's ME time, with music on the side.
QUICK TAKES:
Wife Raj Kumari: my conscience keeper, the one who calms me.
Father Madan Lal Grover: one of the best storytellers.
Bollywood: entertainment.
Favorite film: Eternal Sunshine of the Spotless Mind.
Books: portal to a parallel universe.
Donald Trump: insufferable.
Best meal: Assamese meal at a friend's place in Delhi.