Khalistan Flag Wavers Show Up Again At Indian Consulate In San Francisco, Meet With Beefed Up Security
India-West News Desk
SAN FRANCISCO, CA – More than 200 protesters waving Khalistan flags descended upon the Indian Consulate here on March 22 for a planned demonstration but faced a heightened security presence by the San Francisco Police Department.
Unlike the violent disorder on March 19 when the Consulate came under attack, the protesters were heavily barricaded across the road with uniformed SFPD officers standing guard and patrolling the area.
The protesters included turbaned men of all ages who chanted pro-Khalistan slogans. They came in from different parts of the Bay area.
The organizers used mikes to make anti-India speeches both in English and Punjabi language and attack the Punjab Police for alleged human rights violations.
One protestor rejected the "Indian media bias" for calling them "fringe elements" and as being backed by Pakistan's spy agency ISI."There have been flyers circulating on social media and it's the youth that's at the forefront of protests like these," a pro-Khalistan youth said.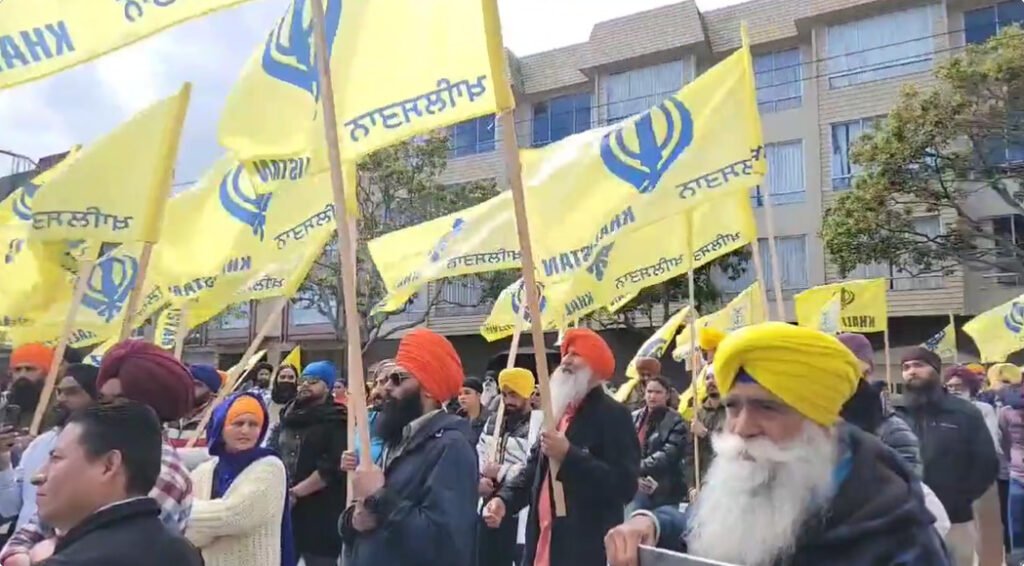 The Indian Consulate in San Francisco has been working with enforcement agencies to secure its premises and the diplomats working at the mission.
"Thank you @SFPDChief for the assurances. Met Chief Scott to discuss the attack on @CGISFO Chancery building on March 19 and request to raise the level of protection to the Consulate premises and personnel," Consul General of India at San Francisco Ambassador Nagendra Prasad tweeted on March 22..
Meanwhile, White House National Security Council spokesman John Kirby has said vandalism at Indian Consulate in San Francisco is "absolutely unacceptable" and is condemned by the US.
"We certainly condemn that vandalism, it's absolutely unacceptable. The State Department's diplomatic security service is working with local authorities to properly investigate. The state Department will work on infrastructure perspective to repair the damage," Kirby said.
A US State Department spokesperson also said, "The United States condemns the attack against the Indian Consulate and any attack against diplomatic facilities within the United States. We pledge to defend the safety and security of these facilities as well as the diplomats who work within them."