Rahul Gandhi In CA: Modi Will Teach God How The Universe Works
SAN FRANCISCO, CA (IANS) – Former Congress president Rahul Gandhi, fresh from the triumph of the Karnataka elections and what seems to be a patching up of rival sections in Rajasthan, took a jibe at Prime Minister Narendra Modi saying, "If you sat him next to God, he would start explaining how the universe works."
Rahul Gandhi, who is on a visit to the US, while interacting with the Indian diaspora on May 30, said, "I think if you sat Modi ji down next to God, he would start explaining to God how the universe works. And God would get confused about what I have created."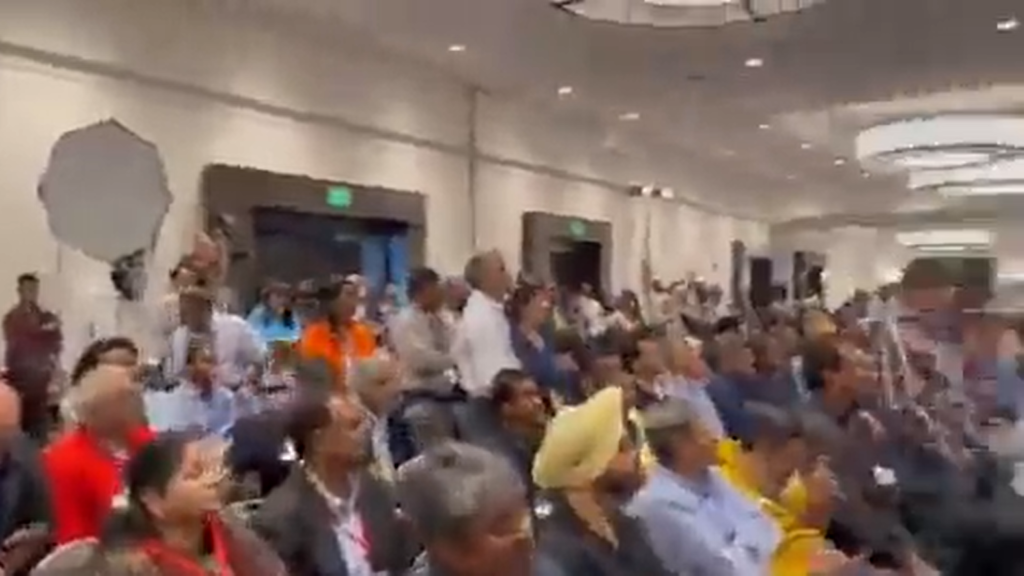 The former Wayanad Lok Sabha MP said, "In India, we grew up with people of different languages, different religions. And that is what is being attacked. The tradition in India, of people like (Mahatma) Gandhi Ji and Guru Nanak Ji, has been that you should not be under the impression you know everything. It is a 'disease' that some groups of India think that they know everything."
The Congress leader said this group of people believes they can explain science to scientists, history to historians, and warfare to the Army while adding that mediocrity is at the heart of it all and this group of people does not actually understand anything.
He also talked about his 4,000 km Bharat Jodo Yatra that began from Tamil Nadu's Kanyakumari on September 7 last year and concluded in Srinagar on January 30 where he raised the national flag.
"The Bharat Jodo Yatra carried the spirit of affection, respect, and humility. If one studies history, all spiritual leaders, including Guru Nanak Dev ji, Guru Basavanna ji, Narayana Guru ji, united the nation in a similar way," Rahul Gandhi said in his address.
"The government used all its strength to stop the Bharat Jodo Yatra. The BJP is
threatening people and misusing government agencies. But nothing worked and the impact of the Yatra increased. This happened because the idea of 'Join India' is in everyone's heart," Gandhi said. "The Bharat Jodo Yatra started because all the instruments that we needed to connect with the people were controlled by the BJP-RSS."
The former Congress chief traveled on an ordinary passport to the US after he surrendered his diplomatic passport following his disqualification as an MP.
He was received at the airport by Indian Overseas Congress chairperson Sam Pitroda and other members of the IOC. Rahul Gandhi had to wait for two hours at the airport for immigration clearance, party sources said.
While he was waiting in the queue, several people who were traveling with him on the same flight clicked selfies with him at the airport. Party sources said that when people asked him why he was standing in the queue, the Congress leader replied, "I am a common man. I like it. I am no longer an MP."
Gandhi will attend several programs in Washington D.C. that includes his speech at the National Press Club on the future of Indian democracy, freedom of speech, and sustainable and inclusive economic growth.
In Washington D.C., Rahul will also meet lawmakers and think tanks and attend a dinner hosted by Indian American entrepreneur Frank Islam and top business leaders, Senators, and Congressmen.
He will then visit New York, where he will be meeting thinkers at the Harvard Club of Harvard University.
He will also participate in a lunch event and meet a set of successful Indian Americans in the creative industry.
On June 4, Rahul Gandhi will address a public gathering at the Javits Center in New York organized by the Indian Overseas Congress.
Indian Overseas Congress Secretary Virendra Vashistha said over the phone, "Rahul Gandhi has been raising the issue of India in the US. The Prime Minister has done 101 episodes of his 'Mann Ki Baat', whereas Rahul Gandhi has been doing 'Jan ki baat' and he listens to them in India and also in the US and talks to them about India wherever he goes."