Rajnath Gets Honor Cordon at Pentagon, Talks With Secretary Lloyd Austin, Boeing and Raytheon
India-West News Desk
WASHINGTON, DC – Defense Minister Rajnath Singh and US Secretary of Defense Lloyd J Austin III held delegation-level talks at the Pentagon here on April 11, ahead of India-US 2+2 ministerial dialogue.
Rajnath Singh, who is on a five-day US visit, arrived at the Pentagon for a bilateral meeting with Austin. Austin welcomed Rajnath Singh in an enhanced honor cordon ceremony at the Pentagon.
The enhanced honor is reserved for valued guests and visitors. During normal honor cordon, visitors are greeted at the Pentagon stairs and welcomed with handshakes, before proceeding inside the building. During the enhanced honour cordon, national anthems are played.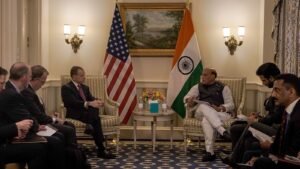 Following the enhanced honour cordon on the steps of the Pentagon at its historic River Side entrance, Austin and Singh walked inside the building for the talks where the two leaders discussed bilateral defense engagement, trade, Indo-Pacific and the global situation in the backdrop of the Ukrainian conflict.
Earlier, on reaching Washington, Singh met with U.S. aerospace and defense majors Boeing and Raytheon. He urged the companies to take advantage of policy initiatives in India to steadily march from 'Make in India' towards 'Make for the World'.