Rukus Avenue Celebrates AAPI Month with South Asian Hip Hop Compilation Album 'The Rise'
India-West Staff Reporter
LOS ANGELES, CA — In honor of Asian American and Pacific Islander Heritage Month, Rukus Avenue Music Group released a collection of South Asian Hip-Hop music in a compilation album titled 'The Rise' on May 24, across all global music platforms.
Hip-Hop has emerged in India and other South Asian regions in the past decade, with a social impact that has gone beyond the mainstream. Rukus Avenue founder Sammy Chand was the pioneering force behind the South Asian hip hop movement in the mid-90s, as groups like Karmacy, Kanwar Gill, Bohemia, and others drove the foundation of the cultural intersection.
To celebrate this evolution, Rukus Avenue has put together a music compilation featuring some of the biggest names in the global South Asian hip-hop space.
'The Rise' is executive produced by Anchal Chand, President of Rukus Avenue, alongside Co-Executive Producer Dan 'D-Boy' Naqvi and Shailen Desai.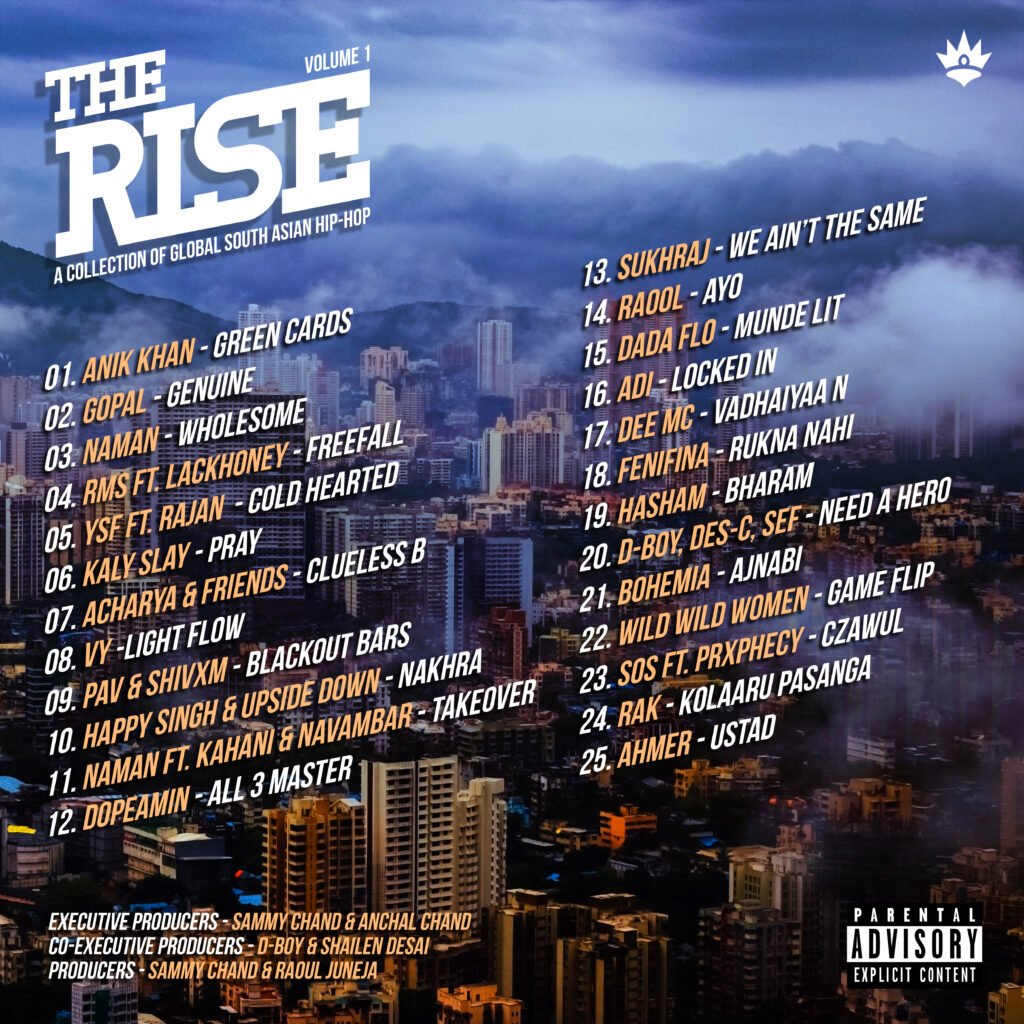 "'The Rise' is everything that hip hop represents; expression, attitude, art and culture," said Naqvi. "The collection features South Asian artists from all around the world, and each artist involved has a unique sound inspired by it. It's universal!"
The album features 25 mastered tracks by 35+ South Asian artists, musicians, and tastemakers from all over the world including the U.S., U.K., Canada, Nepal, Pakistan, India, Bangladesh, Sri Lanka, and more. In addition, tracks on the album are in various languages including English, Hindi, Punjabi, and more.
Some of the notable South Asian artists on the album include Anik Khan (New York), Bohemia (India), Raxstar (UK), and DJ Upsidedown (Los Angeles) — alongside Adi, RMS, Raool, Pav, Shivxm, Gopal, Hasham, Feni Fina, D-Boy, Sef, Des-C, Dee MC, Kaly Slay, Naman, Kahani, Navamber, YSF, Rajan, Dada Flow, LackHoney, DopeAmin, Sukh Raj, Happy Singh, ACHARYA, Vichaar, Dhanji, Siyaahi, Wild Wild Women, Vy, Ahmer, RAK, SOS, Prxphecy and more.
Rukus Avenue has focused on amplifying the music careers of dozens of AAPI artists over the past 25 years to share their stories of struggle, and victory, and they strive to set themselves apart in the world of music. Some of their management roster includes Ruby Ibarra, G Yamazawa, Satinder Sartaaj, Tish Hyman, Anik Khan, and the late Bollywood pioneer Bappi Lahiri, among many others.
"During AAPI month, we want to share South Asian voices and showcase the unity and community that exists through hip hop music — from our Motherlands to the South Asian diaspora, and on to the world stage," said Chand. "Our dynamic and diverse artists showcase our personal South Asian stories and experiences while bridging the gap between cultures and contributing to the mainstream dialogue in music and beyond."
For more: www.rukusavenue.com.