SAG Awards – Anupam Tripathi Makes a Splash
SANTA MONICA, CA – The 28th annual SAG Awards 2022 were held at the Barker Hangar here, on Feb. 28 where actor Anupam Tripathi made a splash on the red carpet.
Korean hit 'Squid Game' made history with its nomination in the ensemble category – of which Tripathi was a part – as the first non-English show to be recognized by the Guild.
'Squid Game' stars Jung Ho-yeon and Lee Jung-Jae won in the Outstanding Performance by a Female and Male Actor in a Drama Series section. Tripathi did not go unnoticed, featuring in several comments by fans on social media who also posted images of him with the ensemble.
Cheering them early on was @Fifi1700, "Goodluck to our #SquidGame squad nominees present at the #SAGAwards Its good to see them together after a while. LET'S GET IT."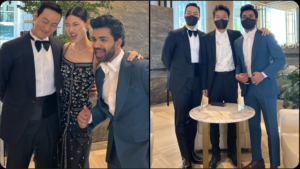 @kaitigger_ wrote, "and so happy that #kimjooryung and #anupamtripathi could also be there. they deserved all the biggest applause for their outstanding performance.
Tripathi was born in New Delhi and showed an early interest in acting. He intended to attend the National School of Drama in New Delhi but moved to South-Korea in 2010 to attend the Korea National University of Arts on a scholarship. He has discussed the initial difficulty of adjusting to the cultural and language differences and how he then became fluent in Korean. He has had several acting roles in Korea, but 'Squid Game' brought him international attention. In it, he plays a tearjerker character and a Pakistani migrant worker.
In compliance with California Covid protocols, all attendees of the SAG Awards were required to show proof of vaccination to attend the ceremony.