Traditional U.P. Food is All About Spices
By Anju Garg
Bedmi Puri
The puri is stuffed with soaked and coarsely ground urad dal and a variety of spices. A close cousin of khasta kachori, bedmi poori stuffing is not cooked.
Ingredients:
Whole wheat flour ½ cup
Maida (wheat flour) ½ cup
Oil as shortening 1 tsp
Salt to taste
Washed urad dal 1/2 cup
Hing 2 pinches,
Dhania powder 3/4 tsp
Chilli powder per taste
Saunf powder – ¼ tsp
Oil for frying
Method:
Wash and soak the urad dal for 4 hours or overnight. Grind coarsely to create consistency of soft dough. Add hing, dhania powder, saunf powder and chilli powder. Do not add salt to the stuffing.
Mix whole wheat flour, maida, salt, and oil and mix well. Make a soft dough using warm water and keep it aside covered with a wet paper towel for 20min. Take a walnut-size ball of the dough, flatten with palm of hands, stuff with pitthi and close the edges. Soft roll to make puri. Fry in medium hot oil until cooked on both sides. Serve hot with Pattal Aloo and chutney.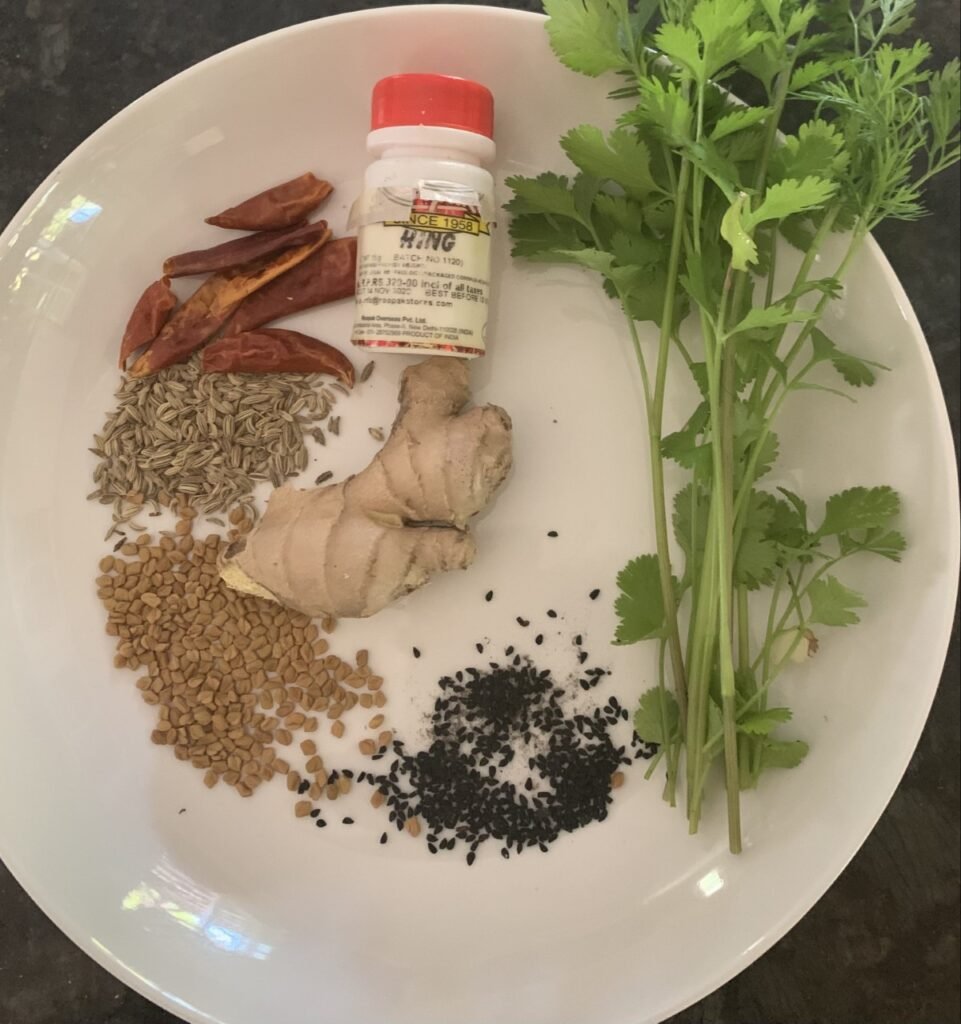 Rhubarb Chutney
This Rhubarb Chutney is an adaptation of the famous mango kalonji made with raw mango and spices, a famous accompaniment in a UP Bania thali. Tangy and sweet, it is a great chutney that is full of the flavor of different spices.
Ingredients
Rhubarb – 1 cup peeled and cut into ½ inch pieces
Oil for tempering – 1½ tsp
Salt to taste
Whole red chilies 2-3 pcs
Kalonji seeds (nigella seeds) ¼ tsp
Whole saunf ¼ tsp
Methi seeds ¼ tsp
Brown sugar ¼ cup
Method:
Heat oil in a small heavy bottomed pan. Add oil to the pan until it is hot but not smoking. To add a twist of flavor use mustard oil. In the oil add methi seeds first and brown them. Add whole red chilies until browned. Then add the saunf and kalonji seeds. After a quick stir add the rhubarb pieces making sure the saunf does not turn brown. Cook covered for 10 minutes. Add sugar when the rhubarb is well cooked and looks like chutney. Serve hot or cold.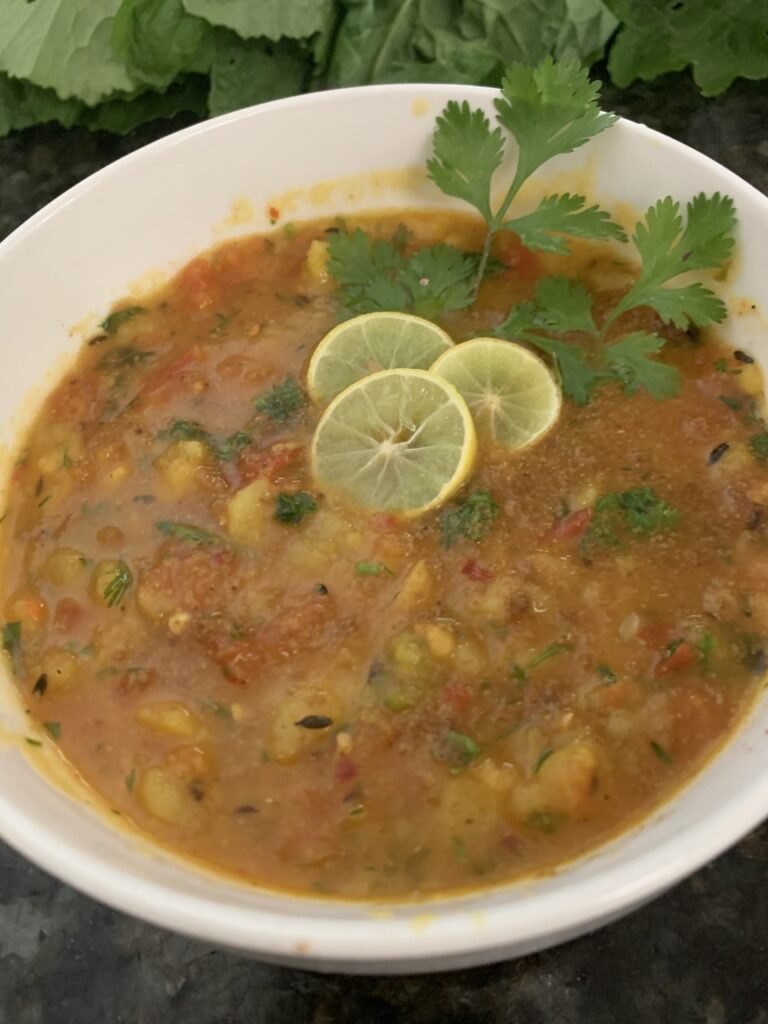 Pattal Aloo
A main stay of the meal, these potatoes are named after how it was traditionally served on a pattal. A pattal is a plate made of sal leaves pinned together using sticks and was a disposable plate in large gatherings. The potatoes take on the flavors of desi ghee and spices.
Ingredients:
Five medium size potatoes – boiled and broken into pieces. Do not cut the boiled potatoes since the consistency of the dish will change.
Tomatoes – 1 medium size
Ginger 1' piece chopped
Desi ghee – 1 tbsp
Hing- 2-3 pinches
Cumin seeds – 1 tsp
Fresh chopped cilantro 1/3 cup
Kashmiri chili powder – ½ tsp
Turmeric powder ¼ tsp
Dhania powder ½ tsp
Salt to taste
Garam masala for garnishing
Method:
In a saucepan add desi ghee, hing, cumin seeds and Kashmiri Mirch powder and fry for 30 seconds to slightly brown the seeds and get a nice aroma. Add ginger and fry for a minute. Add cut tomato. Cook on medium flame until tomatoes are fully cooked. Add ½ of the chopped cilantro saving the remaining for garnishing. Mix salt, turmeric, dhania powder and cook for 2 minutes to blend in all the spices and flavors. Add ¾ cup of water. Cook covered for 10 minutes and serve hot with puri garnished with garam masala and cilantro.
Garg like to use different textures and spices to create new recipes using traditional techniques. She has honed her skills further as a student of home science and dietetics. She believes food should be made of good and organic ingredients and should be nutritionally complete as well as taste good and look appetizing.  She is a member of Kitchen Queens in Southern California, a group with over 4,000 online members.