White House Hosts Reception On South Lawn As Biden Welcomes Modi
By YASHWANT RAJ
WASHINGTON, DC – US President Joe Biden on June 22 welcomed Prime Minister Narendra Modi to the White House, underscoring the need for the two countries to work together as "two great nations, two great friends and two great powers" to tackle the challenges facing the world and to define the course of the century.
Modi called the relationship between the two countries "instrumental in enhancing the strength of the whole world" at a time when the global order is taking a new shape.
Modi was received by Biden and First Lady Jill Biden at a ceremonial welcome with a 19-gun salute on the South Lawn of the White House, in the presence of an estimated 7,000 Indian Americans who chanted "Modi, Modi" several times, and occasionally "USA, USA."
The two leaders spoke again before the start of their bilateral meeting on the same theme of cooperation and democratic values.
Vice-President Kamala Harris, her husband, and Second Gentleman Douglas Emhoff, Secretary of State Antony Blinken, Defense Secretary Lloyd Austin, National Security Advisor Jake Sullivan, and US Ambassador to India Eric Garcetti were the US officials who attended the event.
On the India side, the attendees included External Affairs Minister S. Jaishankar, National Security Advisor Ajit Doval, Foreign Secretary Vinay Kwatra and the Indian Ambassador to the US, Taranjit Singh Sandhu.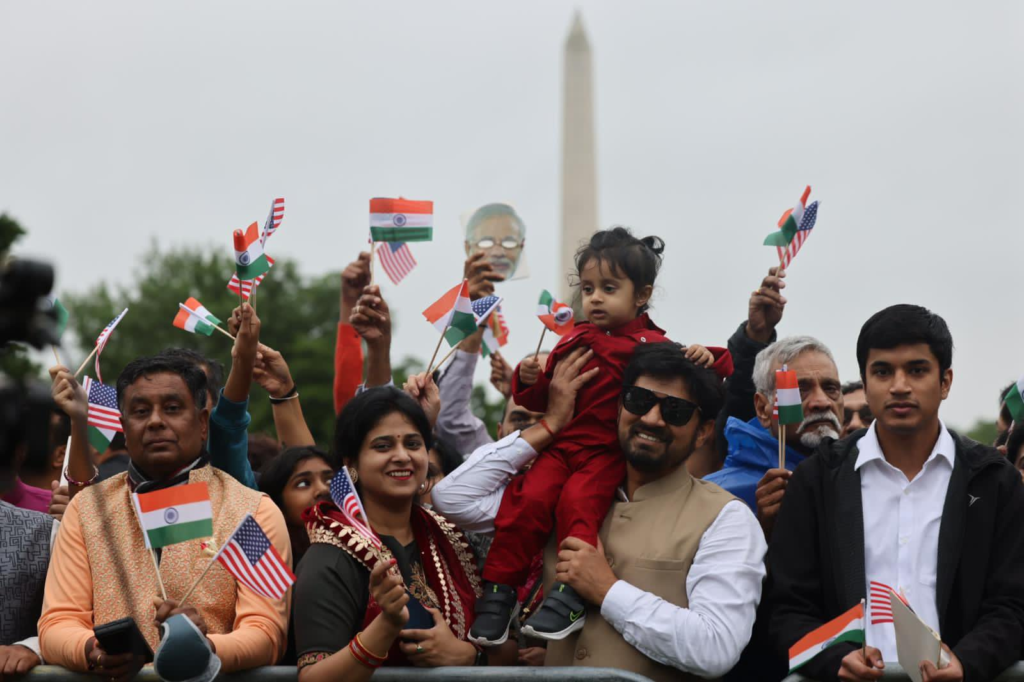 The reception marked the start of what is clearly going to be an "India Day" in the US capital. Biden and Modi left the reception for meetings with their respective delegations, which would be followed by a news conference where the two leaders will deliver remarks and take questions.
At the White House reception, Biden spoke about the ongoing cooperation between India and the US as part of the Quad, which they form with Japan and Australia, its importance for the Indo-Pacific, and of working together on issues from healthcare and climate change to the Russian invasion of Ukraine.
"As democracies, we can tap into the talents of all our people," Biden said, reflecting US' concern over the challenges to democracy.
Modi also spoke about democracy being the central value system to both the countries. Institutions of both India and the US "are based on democratic values, the constitutions of both countries begin with the following three words – "we the people" – and both "countries take pride in diversity", saying "both of us believe in the fundamental principles in the interest of all".
He added, "The world order is taking a new shape this time. The friendship between India and the US will be instrumental in enhancing the strength of the whole world."