Assemblywoman Jenifer Rajkumar Leads Condemnation Against Vandalization of Gandhi Statue in NY
Assemblywoman Rajkumar's office
India-West News Desk
RICHMOND HILL, NY – A statue of Mahatma Gandhi that stood outside of the Shri Tulsi Mandir temple was vandalized on August 3. The statue was found on the ground with the hand and arm broken, the NYPD said. Earlier this year, Indian American members of the community recalled to the media, a similar situation had happened at Union Square where another statue of the Indian leader had been defaced.
Reacting swiftly, State Assemblywoman Jenifer Rajkumar, held a press conference on August 9 at the temple to condemn the vandalization reportedly done by three as yet unidentified people. Several elected officials were present.
Congressman Gregory Meeks said, "I condemn the vile desecration of the Mohandas Gandhi statue at the Tulsi Mandir. Acts of hate have no place in our community and nation and the perpetrators need to be held accountable."
In an earlier statement, Rajkumar, the first Hindu American in NY's Assembly said, "A central tenet of Hinduism is inclusivity and mutual respect toward people of all faiths. Hindus believe not just intolerance, but in one step more than tolerance- actively loving and respecting people of different backgrounds and faiths. This was Mahatma Gandhi's dream- a peaceful, loving world. We have achieved Gandhi's dream in Richmond Hill, where Hindus, Muslims, Sikhs, Jews, and Christians live together in harmony, often on the same block."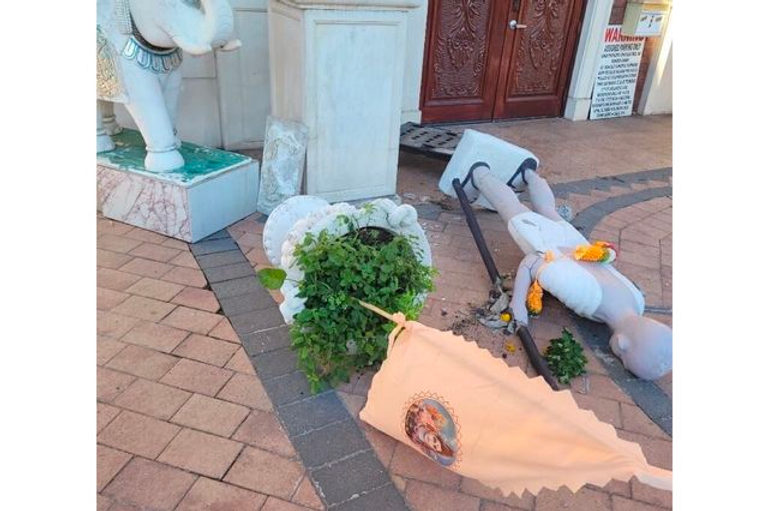 She further added that the desecration of Gandhi statues and anti-Hindu hate crimes would not be tolerated in Richmond Hill or anywhere across New York State. She said, "At a time when our city is experiencing a 127% increase in hate crimes, elected officials and community leaders will gather together tomorrow in my district at Tulsi Mandir to condemn hate crimes against any group based on their religion or ethnicity." Rajkumar further called for the classification of vandalism as a hate crime during the investigation.
Present at the press conference were, Pandit Lakhram Maharaj, founder of Shri Tulsi Mandir, Executive Director of the Hindu American Foundation Suhag Shukla, NY State Senator Joseph P. Addabbo, Jr.,NY Assemblyman David Weprin, New York City Council Speaker Adrienne Adams and Queens Borough President Donovan Richards, among others.