Celebrity Chef Sanjay Patel Brings Indian Food To The Homes of Hollywood's Elite
Photo: Indian American chef Sanjay Patel served as pop star Michael Jackson's personal chef for several years (Left). From Cindy Crawford (seen above) to Mark Burnett to Forest Whitaker, his celeb clientele is as diverse as his culinary skills. (Right)
By REENA RATHORE
LOS ANGELES, CA – Chop, peel, cook, and serve. The first thing Sanjay Patel remembers enjoying in life – when he was all of 6 or 7 – is helping his mother in the kitchen in India. Now decades later, the kitchen is still his happy place, albeit in a different country. And he is no ordinary chef.
Michael Jackson always craved his chicken tikka masala while Lionel Richie is a fan of his tandoori chicken and would even cancel an event if he was not available for catering. Shahrukh Khan can devour chicken biryani made by him at any time during the day along with butter chicken, while George Clooney savors all his specialties. From Cindy Crawford to Mark Burnett to Forest Whitaker, his celeb clientele is as diverse as his culinary skills.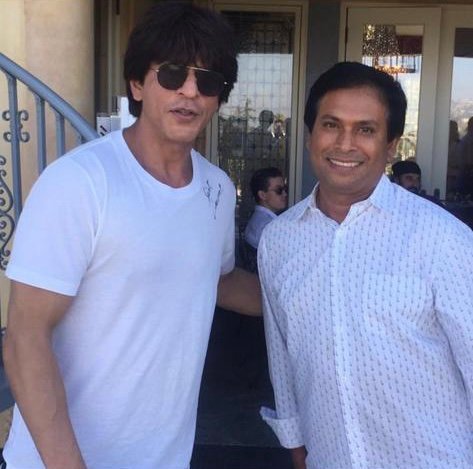 Photo : Bollywood actor Shahrukh Khan loves chicken biryani made by Patel.
From Lake Como to Malibu to Cannes, there is no telling where Patel will be crafting homemade dishes for wealthy elites.
Many Indian film stars, who fly into Los Angeles, make sure to eat at least one meal prepared by him. Among those who stopped by recently was actor Ram Charan of "Natu Natu" fame.
Whether he is whipping up meals for A-list celebrities or serving patrons, Patel believes in spreading joy through his food. "I'm at my happiest self when I am cooking and serving…When someone eats my food and likes it, they thank me from their heart and that makes me happy…feeding someone is a very gratifying feeling," Patel, who served as Michael Jackson's personal chef for several years before he passed away, told India-West.
Patel, who is trained in traditional Indian, Indo-Chinese, Italian, Spanish, and Latin American cuisines, is always adapting and improvising his menu based on the preferences of his clients, a key factor that drove his growth and set him apart.
"I cook all kinds of food but there is more demand for Indian food," he said, adding that having wealthy clients means there is usually no limit to how much he can spend when grocery shopping.
To expand his reach, Patel began his catering business in 2001 and in 2009, he launched his first "Bollywood Bites" food truck.
With help from Indian American plastic surgeon Raj Kanodia, he went on to open his first "Bollywood Bites" restaurant in Westwood on the campus of UCLA in Los Angeles in 2012. In 2018, he expanded to a location in Sherman Oaks, CA.
His franchise also consists of corporate/private events and weddings.
Patel, who relies solely on fresh, natural and healthy ingredients for his dishes, wants to give flavorful options to those who follow a vegetarian diet. Along with that, he has also perfected the art of low-fat cooking and keeping spices on the light side.
Bollywood Bites serves all the staples of Indian cuisine, but chicken tikka masala, tandoori salmon and cauliflower-spinach naan are the most popular dishes, he said.
"Everybody loves Indian food. People love reshmi kababs, malai chicken, veggie/paneer kathi rolls, chicken/lamb kathi roll chicken. Between our food trucks and restaurants and catering, we sell anything between 500-3,000 chicken tikka masala and rice bowls," he noted.
To provide an authentic taste, Patel sticks to traditional techniques like cooking chicken tikka in a clay oven.
"Even when we cater at a celebrity's house, we take our clay tandoor," he shared.
Patel's culinary career really took off when he joined the Four Seasons Hotel in Beverly Hills, CA, as a sous chef. It was during his time there that he was approached by Jackson's team.
Reluctant at first, Patel eventually accepted the offer and went on to build a long-term association with the Jackson family.
"I scared to work with a big celebrity but it turned out to be a great experience. Mr. Michael Jackson used to sit at the counter as I cooked for his family. After eating, the only thing he used to say, 'Sanjay, I love you.'" Patel reminisced. "He used to love the chicken tikka masala which he called orange chicken."
That was a big break in his career. With his affable personality, fine culinary skills and good word-of-mouth, there was no looking back. A few years later, Patel was excited to set out on his own, saying: "Even if you work with big hotels or billionaires, you can only get salary but you can't grow…at that time I was single and could take a chance."
Whether its preparing tandoori salmon or Chilean sea bass, or a vegetarian delight, Patel's got a few tricks up his sleeve.
"I buy fresh foods the same day and I don't marinate fish/meat for 24/48 hours. Lesser marination time ensures the flavors and taste shine through," he explained. "Like in my cauliflower stir-fry, I don't put in too much sauce and keep the crunch."
Thinking back to the time he first met Clooney, Patel said: "He was with Rande Gerber (Cindy Crawford's husband) and I was at the oven. After trying the fresh chicken tikka and tandoori salmon with cilantro/mint chutney and spinach and cauliflower naans, he said, "You have more'?"
For a man who has earned so much recognition for his work, Patel is not resting on his laurels and uses everyday as a learning opportunity, often becoming an assistant to his chefs.
"When I cook, I feel like I'm meditating. It's all about mind-focus," he said.
Patel said he was drawn to the name Bollywood Bites because growing up, he lived in Mumbai with his uncle, a Bollywood producer and build close relations with celebrities like Sunil Dutt – a relationship that continues with his son Sanjay Dutt – but also began working on his passion by taking cooking classes and working at a restaurant.
Success doesn't happen overnight and Patel said he's had his fair share of struggles. Patel immigrated to the U.S. in 1998 via Panama where he attended an Italian culinary school.
"It's been hard. I was in Panama for almost six years. Alongside my culinary school, I was selling electronics and being a personal chef. When I came to the U.S., I was in Miami and was working at Dollar Store but couldn't handle it because I love only cooking," he recalled.
With some help from old connections and a ton of hard work, he was able to secure his footing in Los Angeles.
Looking back on his journey, Patel said: "There is no magic to success. You have to work hard. I was selling food through my truck on Hollywood Boulevard at 4 a.m. in the morning because I did not want to fail. I used to work 16-17 hours a day. I never took off for 3-4 years. I did not want people who invested in me to regret and most importantly, I did not want people who had predicted that I was going to fail, to win."
Patel excelled and defied the odds, proving naysayers wrong. But he is not done yet. His new venture, in partnership with his wife, a doctor, actor Sanjay Dutt and Indian American entrepreneur Paresh Ghelani, is a fast-casual dining restaurant chain called "Bollywood Bites Express."
"First we will test the Los Angeles area with 3-5 locations followed by Las Vegas and Miami," he said.
Featuring on the menu would be food items prepared with fresh ingredients but conveniently packaged. Alongside the staples would be items like kathi rolls, fresh naan wraps, parantha rolls, bowls.
Patel is grateful for his success and believes in giving back. Bollywood Bites serves hot cooked meals for free to those in need on a daily basis. Recently, he also helped raise funds for the Nargis Dutt Cancer Foundation.
"We serve chicken tikka masala and veggie bowls and a bottle of water to about 50-60 people every day through our food trucks and we do the same at our restaurants," said Patel. "If we can help, at least in feeding people, we should."