Hanuman Temple In Torrance, CA Hosts Large I-Day Event
India-West Staff Reporter
TORRANCE, CA – On the evening of August 19, the Levy Adult Center in Torrance transformed into a vibrant tapestry of colors and cultures as the Sri Panchamukha Hanuman Temple played host to the 77th India Independence Day Celebrations. The "Jai Ho" event, a testament to the power of unity and diversity, brought together more than 1,500 people for a truly unforgettable evening of festivities.
A massive stage adorned with a "Jai Ho" banner, symbolizing "Embracing Diversity," served as the heart of the event. Surrounding it were over 30 vendor booths representing local businesses, offering everything from delectable cuisine to jewelry, financial planning services, real estate options, insurance services, and much more. The booths were bustling with visitors throughout the event.
The event was visited by Torrance City Mayor George Chen, Council Members Asam Sheikh and John Kaji, and Torrance Area Chamber of Commerce President Donna Dupperron.
Nearly 300 Participants showcased their talents through a variety of cultural performances. From traditional dances to songs to Yoga to speeches, the audience was treated to a dazzling display of India's artistic heritage.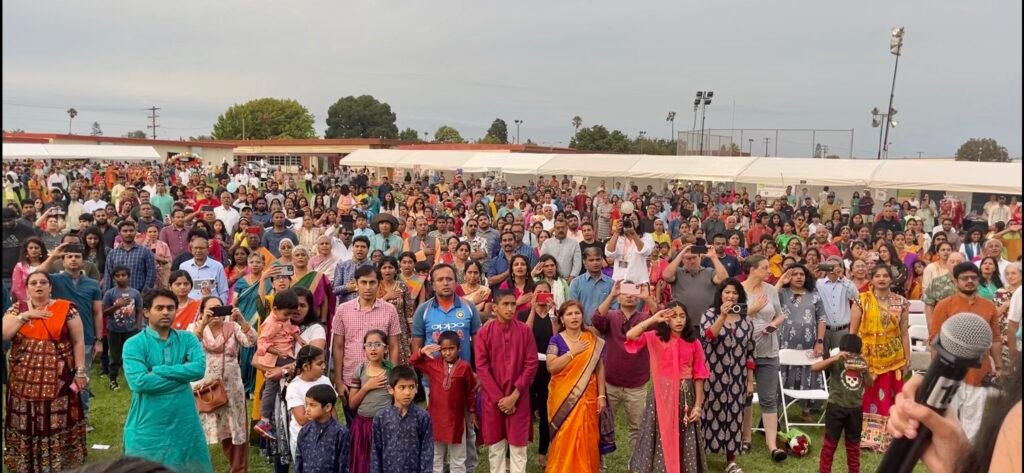 One of the standout moments of the evening was the Parade of States, a unique procession featuring representatives from a dozen Indian states. The parade was a visual spectacle, starting with an American flag carried by local Boy Scouts, followed by the Indian flag and young boys dressed as Indian soldiers. The procession continued with children dressed as Indian national leaders and heroes, each state displaying the highlights of its culture.
It culminated in a resounding performance of "Jai Ho" by local children and an inspiring Color Guard Presentation by the West High School team. The highlight was when participants assembled to form a 6-foot American map, which they flipped to reveal the Indian map, leaving the audience in awe.
The event showcased a touching moment of unity with the exchange and hosting of both the American and Indian flags, followed by the singing of both national anthems.
The President of the temple, Kavitha Venkatraman, extended a warm welcome to the dignitaries and emphasized the temple's role in uniting people from all parts of India and the world. The founder of the Sri Panchamukha Hanuman Temple, Narasimha Aacharya highlighted the temple's contributions to the community since its establishment in 2014 and appealed for support in finding a permanent place for the temple.