Huge Diwali Dance Fest At Walt Disney
India-West Staff Reporter
LAKE BUENA VISTA, FL – In a historic celebration of Diwali, Jashn Productions hosted the inaugural Youth Celebration of the Festival of Lights, with over 400 talented dancers hailing from different corners of the United States. This spectacle unfolded against the enchanting backdrop of Disney Springs and Disney's Animal Kingdom Theme Park. Guided by the artistic vision of Jeanie Beri, the founder of Jashn Productions, this three-day extravaganza dazzled audiences with its vivacious colors, dazzling costumes, and breathtaking dance performances from across North America.
The festival, which ran from October 26-28, kicked off in grand style with a dazzling parade at Disney Springs. Here, the dancers weaved their magic during a meticulously choreographed 20-minute performance that enthralled the visitors strolling along the vibrant streets of Disney Springs.
The Dance Fest Showcase at Disney's Animal Kingdom Theme Park was the highlight, featuring 17 dance schools and mesmerizing performances that beautifully represented various regions of India, including Gujarat, Punjab, and Andhra Pradesh, all infused with elements of pop and hip-hop. The charismatic evening was impeccably hosted by the renowned television personality Nisha Mathur and the talented actress Sway Bhatia.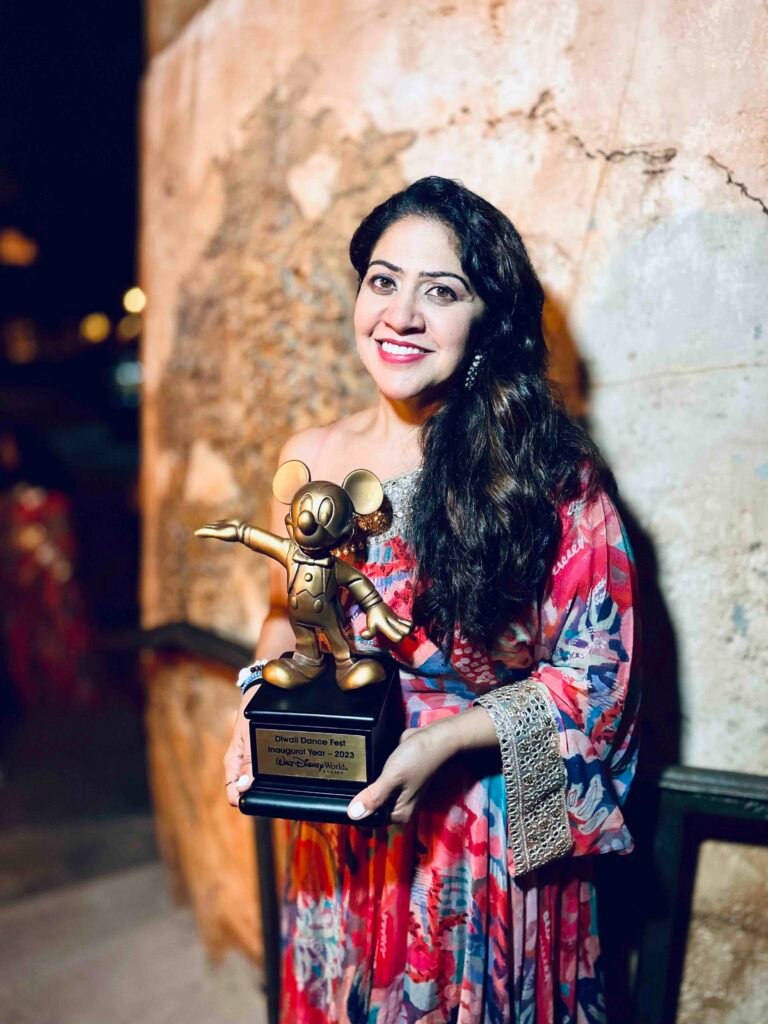 Adding a touch of magic to the event, Walt Disney's iconic characters, Mickey Mouse and Minnie Mouse, made a special appearance, leading the festivities. They were accompanied by children with special needs, graciously sponsored by the SKN Foundation and the N-Lorem Foundation. A significant gesture of generosity was made by Jashn Productions, who donated $10,000 to the N-Lorem Foundation, a noble organization dedicated to discovering, developing, and providing experimental ASO medicines free of charge to patients suffering from nano-rare conditions, a press release said.
Diwali Dance Fest etched its name in the annals of history as a groundbreaking celebration, providing children with a prestigious platform to showcase their exceptional talents. Over 1,000 guests were treated to an extraordinary sensory experience, as the Theater in the Wild was transformed into a riot of vibrant colors, resounded with the beats of Indian music, and echoed with thunderous applause and cheers.
"The showcase was not merely a celebration of cultural tradition but also a powerful representation of unity and the art's ability to bridge divides and unite people," asserted Amit and Hiren, the Bollywood Directors of ICC, California-based artists.
The grand finale of the Dance Showcase featured a stellar performance by the sensational singer and performer Raghav, who captivated the audience with his hit songs "Angel Eyes" and "Desperado."
The celebrations reached a climax with an unforgettable afterparty at the iconic Hambre Theatre at Disney's Animal Kingdom®Theme Park, where children, parents, and team members reveled in the culmination of months of dedication and marked a significant milestone in their performing arts journey.
Jashn Productions, the driving force behind this spectacular event, is under the able leadership of Jeanie Beri, an award-winning South Asian American dancer boasting over 35 years of dance training and teaching, from her New Jersey-based studio, Rhythmic Arts, to her impressive credits, including Walt Disney World, NBA, and the illustrious Broadway stage.