In SoCal, Fundraiser For Turkey, Syria Quake Survivors Raises $165,522
NORWALK, CA – A fundraiser for survivors of the Turkey and Syria earthquake was held on February 19, at the Sanatan Dharma Temple, here. Hosted by the Anekant Community Center, the event surpassed its initial goal, raising $165,522.
It was possible with the support of large donors Tarsadia Foundation ($ 51,000), MSI Charitable Trust ($ 25,000), Anonymous from Atlanta ($ 17,000), and from Wadher Family Foundation, Aparigrah Foundation, Ashok & Madhu Patel of Dallas, Dr. Bharat Patel, Drs. Shubha and Sanjiv Jain, Chimanbhai Patel ($ 5,000) each as well as several others who were moved by the plight of the victims.
ACC has already contributed $5000 to Sight & Sketches a local nonprofit to assist with the transportation of survivors from rubble to safety and food; it has also donated 130 sleeping bags. ACC announced it was also working with the Diwaliben Trust in India to put together a consignment of medicines and MSI was helping in its transportation from Mumbai to Turkey. It is also coordination with the Bidada Sarvodaya Trust to help survivors with prostheses.
The event highlighted the devastation in the quake region. Shrenik Shah made a presentation with photos, CNN images, and NBC news videos. The presentation by Sneha Anand of Chicago included a video showing the impact of MSI Charitable Trust in the community.
Hassan Twiet, a teacher of Syrian heritage, discussed the concept of humanity and expressed sincere thanks to the community for coming together at a time of dire need. Turkish Consul General Sinan Kuzum sent a message of gratitude and appreciation.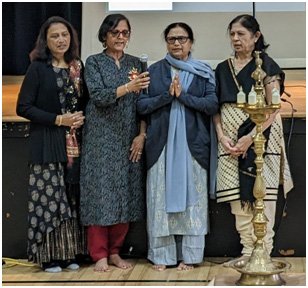 The event began with the Jain Navkar Mantra, and the Hindu Gayatri Mantra, a minute of silence for those who had lost their lives in the natural disaster and there were remarks by ACC board member Dr. Nitin Shah, Bhikhu Patel, Manu Shah and Mahesh Wadher.
Food and a musical program was also featured.