India Community Center's Inaugural Bridal And Handicraft Extravaganza Draws Hundreds In Bay Area
Photo : A professionally choreographed fashion show displaying the season's buzziest trends in bridal trousseau was part of the show. Seen above: Toral Chopra of TC Urban Couture.
By REENA RATHORE
MILPITAS, CA – On April 23, the India Community Center here was buzzing with excitement, as hundreds of attendees – many of them brides-to-be and their families – turned out for its "South Asian Bridal Show and Handicraft Fair" to explore some exciting and convenient options and ideas needed to plan their big day or simply browse for Indian art and handicrafts.
At the inaugural event, about 30 vendors came together to put on a showcase for the visitors, providing myriad options from wedding dresses and jewelry to mehndi and photography services, décor ideas, floral displays, event planning, and catering. Also available on-site were unique handcrafted items like intricately designed candles and hand-drawn art.
The purpose-driven event was meant to "engage" the community as well as provide innovative and appealing solutions for a wedding which, for many families, is a cultural experience, said ICC's CEO Raj Desai.
"This event is meant to support the community that has been supporting the ICC for 20 years," he told India-West. "As we host many weddings/birthdays/events here, we thought that all the vendors and clients that support these programs at ICC, why not give them a venue to display all of their products and services."
The entire day saw a steady stream of people coming to check out the show. Seeing such an overwhelming response, he said the non-profit plans to make this an annual feature, adding that the future editions will be more interactive and entertaining.
The day-long expo seemed to take the stress out of wedding planning, with varied vendors, each with a wealth of experience and expertise, sharing their insights along with displaying their wares.
For the exhibitors, it offered a chance to connect face-to-face with future customers, helping improve their business prospects.
Wedding professionals were all too happy to showcase their products and skill sets at the event.
"This is a great opportunity, right in the heart of the city," Ridhima, owner of Traditional Couture, which specializes in Indo-Western and traditional outfits, told India-West. "The footfall today has been great. I design outfits for all ceremonies of a wedding. My work keeps me close to my roots and that's what I love about it. I have gotten a lot of requests today for custom wedding outfits, giving me an idea of what people's tastes are. Not just to-be brides, but also to-be mothers-in-law have also been coming to my booth and I'm hopeful that a lot of it would convert into bookings."
Hosting an event of this scale requires intense planning, Desai concurred, sharing that it took about three months to bring their goal to fruition.
"At the end of the day, it is a huge commitment not just for ICC but for our vendors, models, and people who drove from places like Los Angeles to be here with their goods. It is a huge effort," he told India-West. "We've learned some from hosting this event and as we go into doing it again in the future, we will make it bigger in scale and plan it in such a way that engages everybody in a meaningful way."
One such vendor was Radha, owner of Radha Jewelry, who moved out of the San Francisco Bay Area several years ago and wanted to touch base with the community.
"I came here because I really wanted to get to know the community. I used to live in the Bay Area and I really wanted to get back into that groove where I left off 20 years ago. I have a wide variety of 92.5 silver collections and people are looking for customized jewelry for their wedding outfits."
While anxiously waiting for the fashion show that opened in a majestic way, attendees strolled through the lined-up stalls, sampling delicacies, looking for the trendiest wedding attire and décor, and some even hoping to land good bargains.
The professionally choreographed show, displaying the season's buzziest trends in bridal trousseau, with intermittent dance and music performances, was the most entertaining portion of the event. Divya Mowar choreographed the show.
Models draped in opulent saris/lehenga sets and sporting glistening jewelry with intricate hairdos sashayed down the ramp to Bollywood numbers showcasing a collection that was an eclectic mix of ethnic and contemporary wear.
From the gold-smattered classic red to the soft subtle shimmery ivory, the wide-ranging color palette also included lilac, midnight blue, coral, fuchsia, and peach.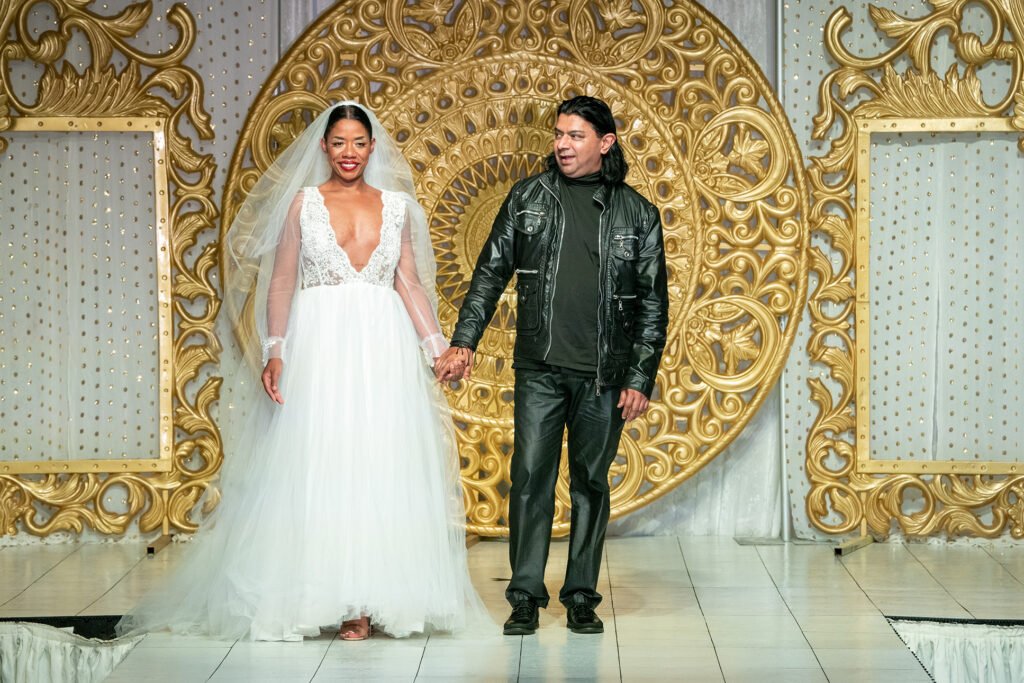 Attendees were also treated to the latest trends in anarkalis and glamorous cocktail dresses.
Bold and dramatic metallic gold and kundan jewelry complemented the bridal wear.
A variety of live music filled the air and basking in applause from the crowd, young dancers gave some heavy-duty performances. The fashion, music, and dance extravaganza lasted close to two hours.
Indian American celebrity fashion designer Shekhar Rahate of Shekhar Rahate Haute Couture was among those who showcased their collection. Renowned for dressing up Hollywood celebs at the Oscars, the Golden Globes, and Emmys, Rahate specifically designed a collection for this event that featured dreamy gowns with flower appliques, and tulle, lace, and sheer detailing.
"I have a great relationship with the India Community Center and have been working with them for the last 15 years for different projects and they invited me to present a collection here and I thought let's do it and take a different experience," Rahate told India-West. "It was a wonderful experience and it worked really well. I don't do wedding collections much and only do on-order because I am more into couture and red-carpet designs. If your wedding dress is not different than what is available in the market, that dress is going to die. If there are 10,000 dresses available in the market, your dress has to be the 10,000th."
The fashion show designers included TC Urban Couture by Toral Chopra, Tanmohi Luxury Jewelry by Mruduta Mervana and Nawaabz Boutique by Maneesha Dayal.