India's Defense Minister Rajnath Singh Meets Community During San Francisco Visit
India-West Staff Reporter
SAN FRANCISCO, CA – India's Defense Minister Rajnath Singh was received by Consul General T.V. Nagendra Prasad on his arrival in the Bay Area after concluding his visit in Honolulu, HI where he visited the headquarters of the United States Indo-Pacific Command.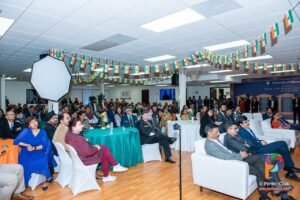 The minister was in the US to attend the high-profile India-US 2+2 ministerial dialogue meetings in Washington, DC.
On April 15, a well-attended community reception hosted by the Consul General at the University of Silicon Andhra was addressed by Singh.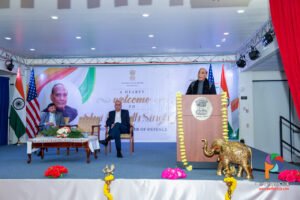 The attendees included elected members, including Mayors of Indian origin, ex-Indian Armed Forces personnel, Silicon Valley entrepreneurs, ethnic media, and community leaders of various organizations in the Bay Area. There were also community and industry leaders from around the West Coast including from San Diego, Fresno, Los Angeles, Seattle, Arizona.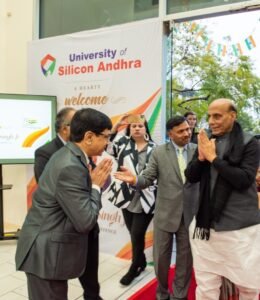 Singh gave an inspirational speech on 'Rising India.' The cultural program hosted by the students at University of Silicon Andhra including Kuchipudi and Indian patriotic song performances by children born and brought up in the U.S. was received well by the community.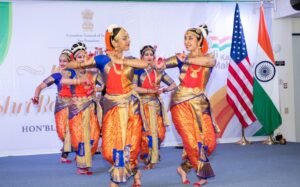 The Consul General Prasad was very appreciative of Dr. Anand Kuchibhotla for the support offered by him and his team at Silicon Andhra.