LA City Announces India Showcase at Popular Lotus Festival on July 9 and 10
LA City officials and others take the pledge at the start of the event to announce the India showcase at the upcoming hugely popular Lotus Festival. (All photos provided)
India-West Staff Reporter
LOS ANGELES, CA – To mark the 75th anniversary of India, the city of Los Angeles announced that the 41st Lotus Festival will "honor and showcase the people and culture of India."
On June 9, the city of Los Angeles Department of Recreation and Parks and the Los Angeles Lotus Festival unveiled a preview of what was to come on July 9 and 10 at a press luncheon hosted at Echo Park Lake, here. Colorful decorations set off the outdoor space in the backdrop of the exquisite lake and vibrant dance pieces from the classical forms of India were on display.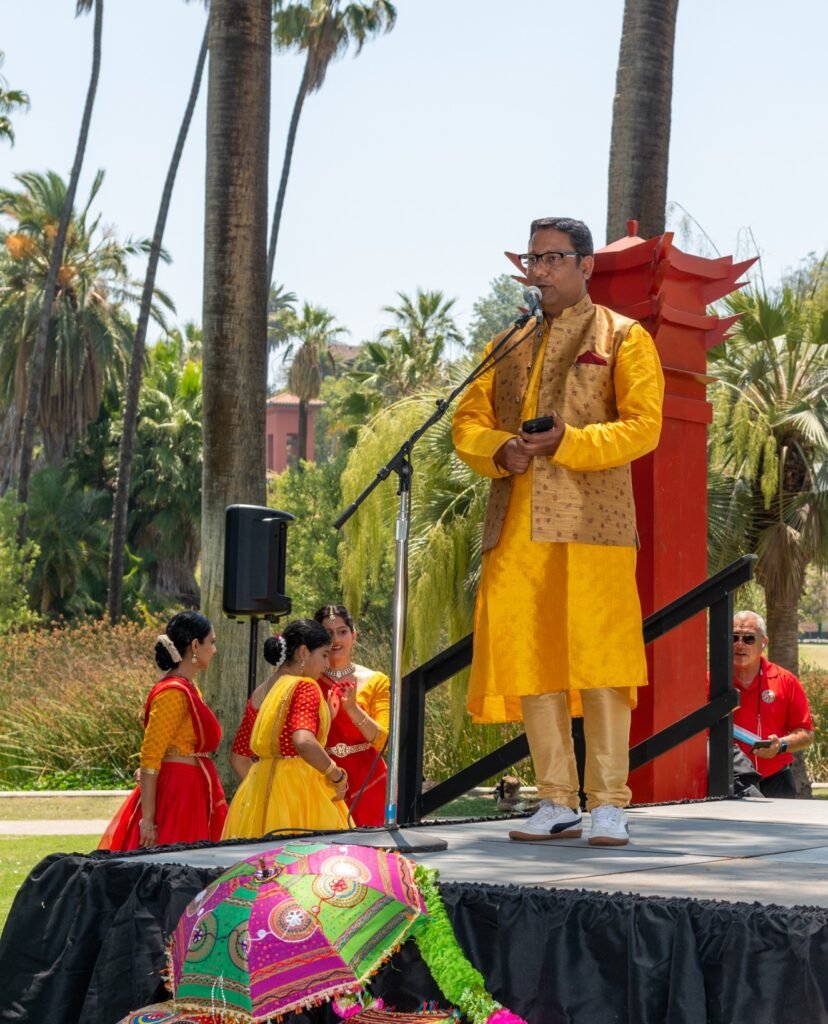 "Each year as the lotus flowers of Echo Park Lake reach full bloom, we welcome nearly 120,000 visitors to the signature city park," said Council member Mitch, (District 13). This year, we celebrate the rich traditions of India and take time to soak in the rich diversity of Asian arts and culture here in Los Angeles."
Michael Shull echoed the sentiments saying, "The celebration of Asian and Pacific Islander ethnicities will showcase India in a communal setting, bustling with entertainment and food, cultivating cultural appreciation and awareness."
The 41st Lotus Festival, which is going to be in person after the pandemic break, will be opened on July 9 at 12noon and is expected to be attended by the Indian Consul General in San Francisco, Dr. T.V.Nagendra Prasad. During the festival, which ends the following day with closing ceremonies at 8 pm, there will be music, dance, food, boutique booths, a beer garden, and dragon races among other things.
At the press event, Sunil Agarwal of IALA and Ishwar Deedwania of FIA told India-West there would also be an India procession at the popular two-day festival.
The media, as it tucked on food from Pista House was treated to a piece on the onset of spring in Kathak by dancers from the Kathak Kala Academy, Bharatnatyam on the goddess Saraswati and uniquely for Southern California, Kalarippayattu by the Navarasa Dance Theater.
The Lotus Festival will be held at: 751 Echo Park Ave, Los Angeles.