LMU's15th Annual SASA Conference Honors Romila Thapar, Deepa Mehta
Los Angeles's world fusion trio Keenar, with sitarist Rajib Kamarkar, percussionist Neel Agarwal and composer James Waterman entertained at the event. (photo provided)
India-West Staff Reporter
LOS ANGELES, CA – The Loyola Marymount University (LMU) hosted its 15th annual South Asian Studies Association conference Mar. 11– 13, online and in person at its campus, here. This event, that was free and open to public, was organized by LMU Graduate Yoga Studies and South Asian Studies Association (SASA).
The association is dedicated to advancing knowledge about a wide range of subjects that describe South Asian culture in its glorious past, present and future. To that end, two women who have depicted a better understanding of South Asia through their work were honored: Indian author and historian, nonagenarian Romila Thapar wjp has written more than 20 books and is a professor emeritus of Ancient History, at the Jawaharlal Nehru University in New Delhi; the second was the erudite Indian Canadian Oscar-nominated filmmaker and screen writer Deepa Mehta.
The event also celebrated the launch of new scholarly journal "Monsoon: South Asian Studies Association Journal."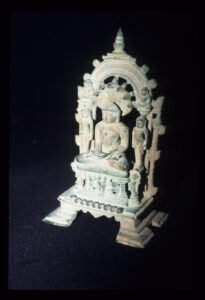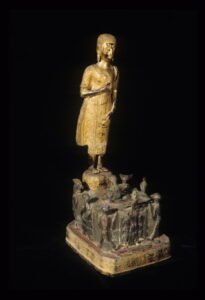 Ancient and beautiful Indus Valley period material, Gandharan Buddhas, and household shrines were exhibited at the conference.  (photo provided)
The two-day event had informative panel sessions. Specific topics explored the effects of the pandemic on South Asia, recent and current political situations, the rise of revisionist states in South Asia, American and Chinese grand strategies and their South Asian effect, and other political events; contemporary or historical perspectives on religion in South Asia; gender and sexuality; film and new media; new research in art and archaeology; recent literature and educational innovations.
An address by Indian American philanthropist Navin Doshi reflected upon South Asian presence in America for the past fifty years.
There were engaging talks by faculty and other learned people which concluded with a presentation by and discussion with Indian American journalist and author Akash Kapur who has written 'Better to Have Gone: Love, Death and the Quest for Utopia in Auroville' and 'India Becoming.'
Participants were treated to a special collection exhibit of South Asian materials, including displays of clay lamps and seals from the Indus Valley (ca. 3000 B.C.E.), Gandharan Buddhas, and household shrines.
Musical performances by the Los Angeles world fusion trio Keenar with sitarist Rajib Kamarkar, percussionist Neel Agarwal and composer James Waterman, entertained at the open and close of the event.