Madhavan and Nambi Promote Film in SoCal, Many Touched by Story
Actor R.Madhavan speaks about his movie 'Rocketry: The Nambi Effect' based on the life and tribulations of scientist Dr.Narayan Nambi, seen on left at Buena Park, CA.
By BHARTI KUMAR
BUENA PARK, CA – Before the highly lauded 'Rocketry: The Nambi Effect' hits screens on July 1, its maker, the famed R.Madhavan, is on a blitzkrieg 12-day promotional tour of the US. Along with the eponymous ISRO scientist, stops have been made from Washington DC to Texas and on June 8 the fifth promotional happened here, in Southern California.
At the Jain Center of Southern California, Dr.Narayan Nambi and Madhavan engaged in an informal conversational style with the star-struck audience. While many may have come to see Madhavan, the actor who has made it big across multilingual screens, those in attendance returned also wowed by Nambi and his contributions.
The movie is a biographical portrayal of the life of Nambi, a 2019 Padma Bhushan recipient. It especially strives to shed light on the period when the 1941-born scientist, who worked as an aerospace engineer at the Indian Space Research Organization, was falsely accused of espionage in 1994 and four agonizing years later, declared not guilty. Madhavan spoke at length about how he initially heard about Nambi's courageous journey and was so impressed, that he felt he had to make everyone aware of it. He said he had to condense many incidents for cinematic purposes.
At the event organized by the Kerala Hindus of North America, attempts were made to explain how makeup and effects were used to transform the writer, director, producer, and lead role player Madhavan into Nambi. The actor said it was first time enacting a bio-pic and he said while he got his hair colored, reduced his weight and twisted his jaw to get the right expressions, the crew worked hard to make him look and old, as dictated by the script.
Nambi said it was the scientists of India who have provided such a commendable position for India on the global stage and hoped the story would inspire budding scientists. He also hoped that no one would have to face the ignominy and torture that he himself had unfortunately been subjected to.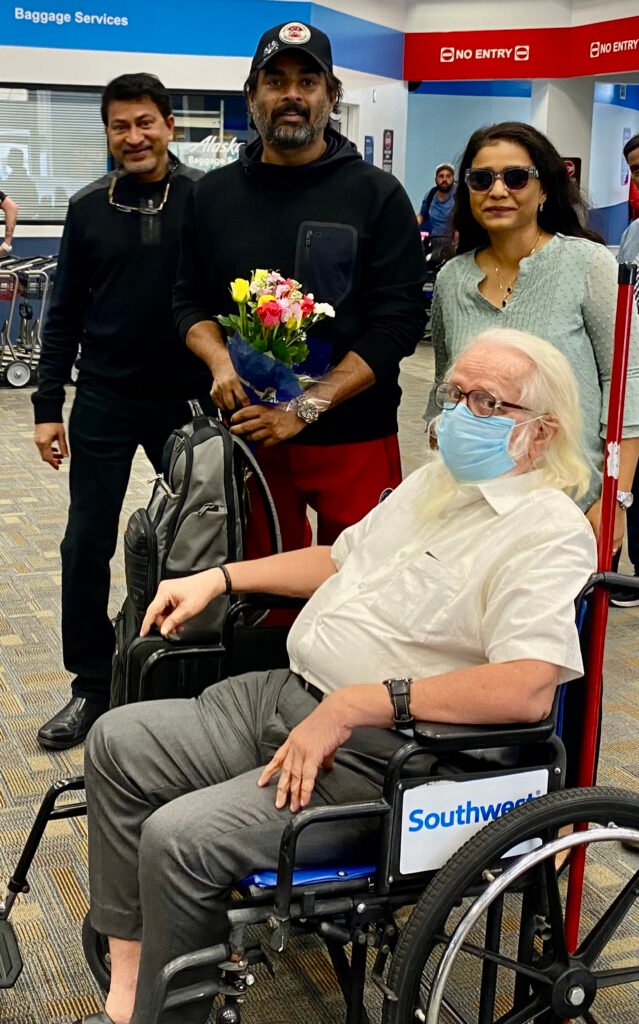 Madhavan told India-West that "This is the first movie I think, that has been shot simultaneously in three languages – English, Tamil and Hindi. It has not been dubbed. So, the actors, shot each scene to suit the colloquial style and spoke the dialog."
As a writer, he told India-West, "I had to learn a lot of terminology and being an engineering student myself, I did understand most of it. I bugged Nambi so many times to confirm many terms. After all, this subject could not be dragged into a commercial type of film, I had to stick to the main plot and character." He acknowledged that there would be shots some might still not get, but he has worked "to balance the terminology for scientists and layperson so they can relate to the emotions, intensity, and occupation of the scientist."
Nambi added to India-West, "Madhavan has been a good director, but to me…he listened to what I narrated about the incidents at the research centers, and he has been a good student in that respect. The movie has shown the truth."
It could be why the movie, which has been shot across seven countries, was greatly applauded at its premiere at the 75th Cannes Film Festival, earlier this year.
Earlier, the event began with remarks by KHNA officials, guests and organizers including, B.J. Pillai, Ranjit Pillai and Ramadas Pillai.