Rahul Gandhi Meets Community, Thinkers In NY
Photo: Mohammed Jaffer-Snapsindia
NEW YORK, NY (IANS) – After filling halls and auditoriums at Stanford and Santa Cruz universities, former Congress president Rahul Gandhi continued his tour in the US interacting with leading thinkers of New York at the iconic Roosevelt House here. Iit was a thought-provoking fireside chat," he tweeted along with photographs of the interaction.
The Congress leader also interacted with the Mayor of New York City Eric Adams and with the community on June 4 at the Javits Center here. Several Congress leaders, including Telangana Congress chief Revanth Reddy, Rajya Sabha MP Deepender Singh Hooda, party spokesperson Alka Lamba, and several others were present.
He intensified his attack on the BJP-led Central government, saying that Prime Minister Narendra Modi, BJP, and the RSS have a habit of looking back and they never think about future and will always blame someone for the past. He said, "A train accident happened during the Congress government and our party did not get up and say that now it is the fault of the British that the train has crashed."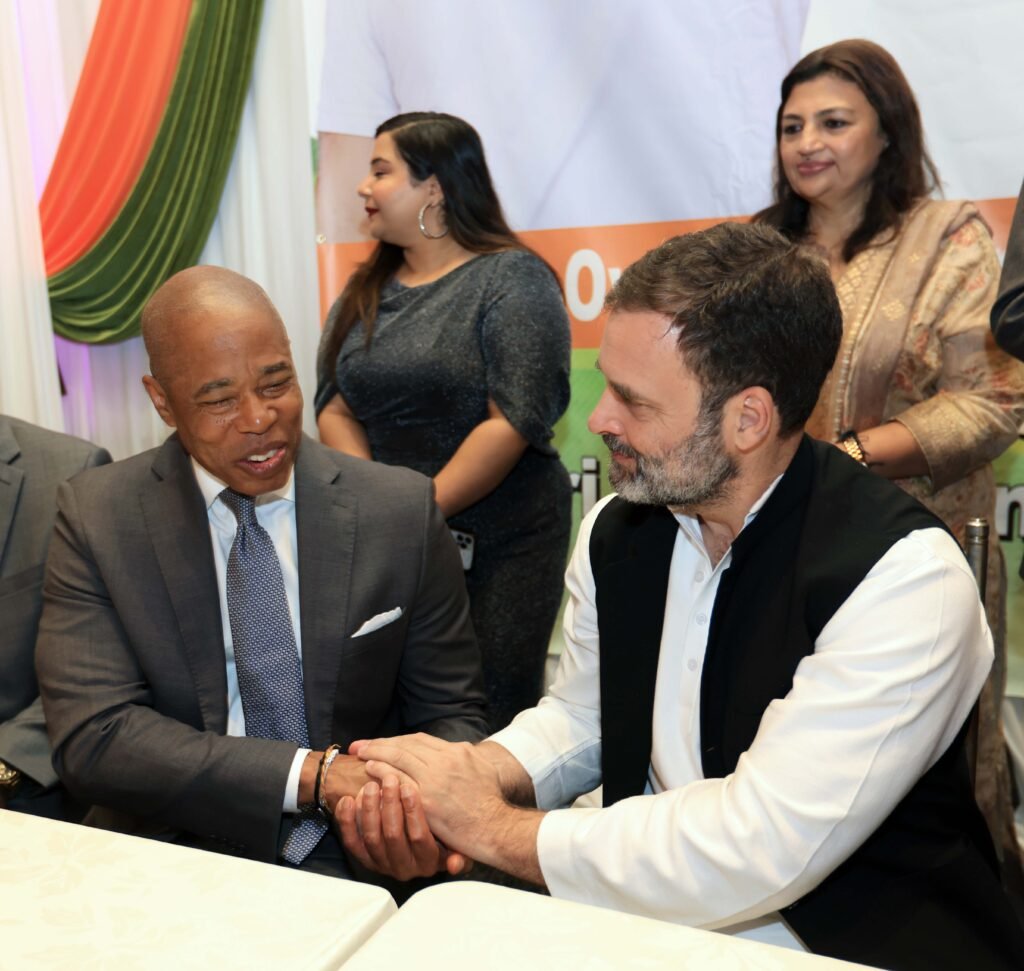 Indian Overseas Congress Secretary Virendra Vashisth said that before Rahul's address to the Indian diaspora here, all the leaders and people observed one-minute silence for the victims of the Balasore train tragedy.
While speaking extempore, Gandhi reiterated many of the points that were made at
UC Santa Cruz's Silicon Valley Campus. Drawing from his recent Bharat Jodo Yatra across India, Gandhi shared his profound experiences of witnessing the desire for love, affection, and connection among the citizens. He emphasized that this yearning for human connection and empathy transcends political boundaries and is a fundamental aspect of Indian society. Gandhi viewed his yatra as a testament to the power of human bonds and believed that such mass mobilization for an extended period could effectively bind people together for a common cause.
However, he also made it clear that his Bharat Jodo Yatra, which aimed to unite the nation, was not conceived as an electoral tool. Gandhi's approach was to focus on fostering unity among people rather than using it as a means to garner votes. This perspective, he argued, was instrumental in the yatra's success, as it genuinely resonated with the people and allowed for authentic connections to be formed.
During his speech, Gandhi proudly highlighted the success of the Indian National Congress in the recent Karnataka elections. Reflecting on the current political climate in India, he acknowledged that the country is going through a political storm. Nevertheless, he expressed confidence that this storm would eventually pass. He firmly believed that the Bharatiya Janata Party (BJP), the ruling party, had significant vulnerabilities and that the notion of its invincibility was a fallacy. He stated, "I don't, for a moment, believe that the BJP cannot be defeated." – with inputs from Vrinda Agarwal.