Rapper Sidhu Moosewala Memorialized in 2 Murals in Artesia
The likeness of the gunned-down rapper Sidhu Moosewala moved several who have come by after the unveiling to drop off flowers.
India-West Staff Reporter
ARTESIA, CA — Anish Kumar pulled up on the sidewalk, got off his car armed with a camera and stood for a moment quietly looking up at the murals that commemorated the life and the grief felt by the Punjabi community on the killing of Sidhu Moosewala, a rapper and politician.
On a vacation from Birmingham, United Kingdom, it was akin to a pilgrimage for Kumar, telling India-West, "there's no other way of seeing it, he was like Tupac (Shakur), he brought cultures together."
The 28-year-old rapper was gunned down on May 28, sending reverberations across the continents with talk of gangs, red corner notices, extraditions of culprits from Canada, and spotlighting Indian separatists.
But the outpouring of grief from fans across the Punjabi world was real and felt in Southern California too, when artists banded together and memorialized the singer and on June 5 unveiled two murals.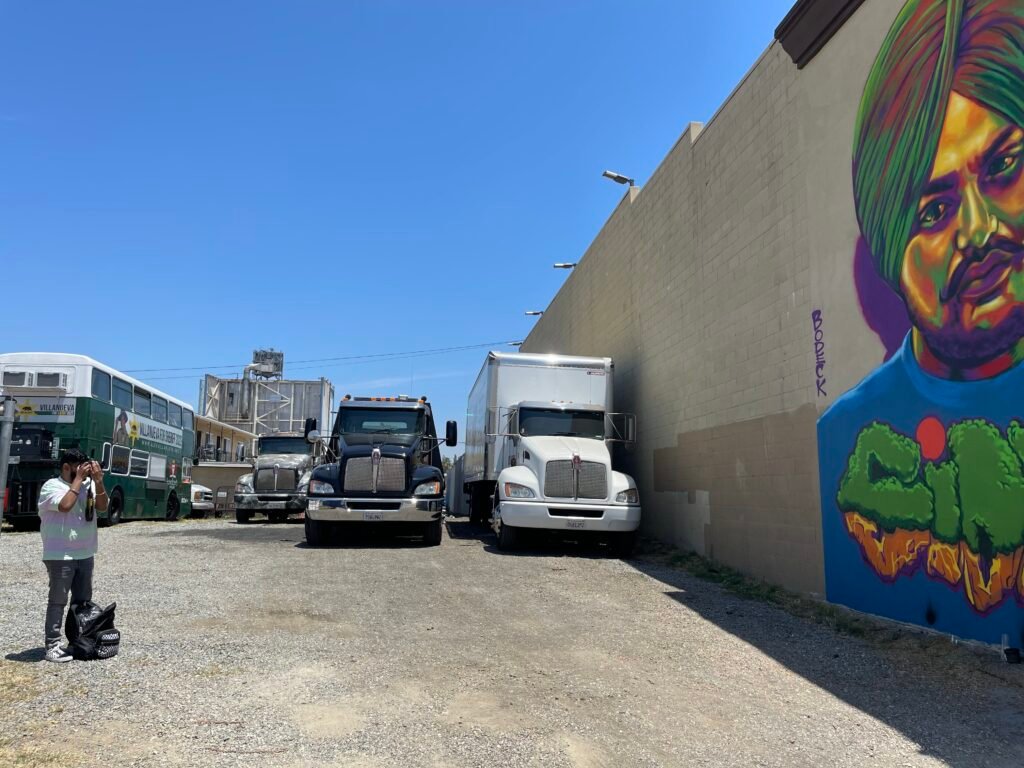 The artists worked 12 to sometimes 20 hours a day to complete the murals. Sunroop Kaur posted, "Pulling off a mural like this within 3 days would have been impossible if it wasn't for the community support and for that I am eternally thankful…I hope it can provide a space for collective healing."
Artist Bodeck Luna Hernandez wrote, that witnessing the community pray together was an unforgettable experience for him. "I'm speechless and thankful for all the support the entire 12 hours I was painting," he said.
Painted on the outside walls of Artesia's London's Pub and Grill, 11651 Artesia Blvd., organizers and artists told ABC7 and posted on Instagram that they had been promised by the owners of the pub and the city, that the mural could remain there "forever."
Indeed, pub owner Raj Patel is not new to murals and is sensitive to current news, having invited depictions of Kobe Bryant and Nipsey Hussle on his walls.