Santa Anita Park – An Event Site To Create Unique Memories
India-West Staff Reporter
ARCADIA, CA – Even the most uninformed, non-betters amongst us are likely to have heard of Seabiscuit, the horse. Made famous for the current generation by the 2013 Hollywood film of the same name, it was based on the life and career of an undersized and overlooked racehorse, whose improbable success as a top, money-winner made him a media sensation. In 1940, Seabiscuit won the Santa Anita Handicap, California's most prestigious race easily.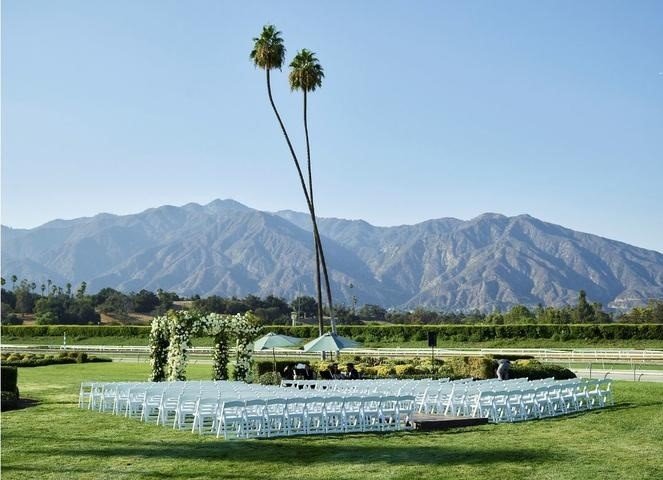 That happened at the Santa Anita Park track in Arcadia, CA. To visit there is to visit history with rooms that recall the glamor of 1930s Hollywood when stars like Cary Grant and Clark Gable flocked the stands. But to visit there is also to be in touch with the times with the grounds at the entrance readying for a Southeast Asian Lunar Year fair and Mexican American staff busying themselves around the 320-acre park. Nothing might exemplify the mix of history and the new age as the gaming itself with betters having the choice of lining up for a live teller or punching a machine.
The vibe of old and new is something that Santa Anita Park offers as a backdrop to anyone who wants to host events at a unique facility. First off is the track infield area, a carpet of green that resembles a park with picnic tables, topiaries, and large trees. A spectacular bonus to the huge grounds in the center of the track is the backdrop of the San Gabriel mountains.
Recently, a typical big, fat Indian American wedding was held in the infield complete with live food stations, barat, mandap, tents, music, reception, and dancing. Expansively set between the mountains on one side and an Art Deco-style grandstand façade that runs over 1,000 feet on the other, it offers the grounds offer a viable choice outside the stultifying and expected hotel ballroom.
The area which can accommodate as many as 50,000, said Sanjay Ahuja, Senior Director of Event Sales, is primed to be as flexible as the imagination of the guests. The grounds have been used by corporate houses to entertain thousands of staff, as also private party carnivals and celebrations. There are golf carts to navigate around, easy parking and for weddings, suites that can be readied for the bride and groom.
Santa Anita Park has indoor facilities too that are great for business groups. On race day, there are areas where groups can hang at tables in the stands munching and drinking and talking shop. There are suites for meetings that come with their own food service, but a little gem might be a meeting room that's wood-paneled, outfitted with projection monitors for presentations, and abuts a private dining space and balcony. It is not hard to imagine a small group of 30 attending meetings, stepping out to the races, and being plied with food.
For more information: www.santaanita.com
To host events: (626) 574-7223, ask for Sanjay Ahuja.