SMAP Opens New Chapter in San Diego
India-West Staff Reporter
SAN DIEGO, CA – The Shivaji Maharaj Antarrashtriya Parivar (SMAP) on April 16 launched its San Diego chapter, its 27th worldwide.
The inaugural event was a celebration of India's 75th year of independence and Shiv Jayanti.
The event began with Pooja Thomre, President of the SMAP San Diego Chapter offering flowers in reverence to Indian freedom fighters and leaders. The new SMAP San Diego leadership team comprises of: Dr. Nivrutti Bharate, Dr. Hari Nair, Saish Priolkar, Gaurang Parikh, Aditya Satsangi, Rohit Bhopatkar, Anup HR, a press release said.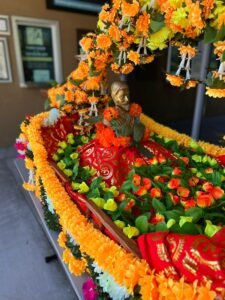 Hindu Swayamsevak Sangh President Dr. Sunil Kumar was the distinguished guest speaker at the event. Dr. Madhu Madhavan and Madhao Saste veterans who have served and led the San Diego Indian American community were felicitated at the event.
The event showcased amateur and professional talent from San Diego where through word, verse, dance and music, tributes were paid to leaders of India's freedom movement. The unity and cultural heritage of India was seen in the form of presentations from Tamil Nadu, Karnataka, Mewar, Gujarat, and other regions of the nation.