Under Viswa Subbaraman's Baton, Mozart's 'Marriage of Figaro' Goes Desi, Yet  Remains True to Original
Internationally acclaimed conductor Viswa Subbaraman at work before the debut of the all-new production of Mozart's 'The Marriage of Figaro.'
India-West Staff Reporter
"The Marriage of Figaro" presented by Opera San Jose conducted by Viswa Subbaraman. From September 10-25at California Theatre, 345 S. 1st St., San Jose. Tickets: www.operasj.org
SAN JOSE, CA – Viswa Subbaraman, the internationally applauded opera conductor is giving Mozart's 'The Marriage of Figaro' an Indian take. With a nearly all South Asian cast, Subbaraman hopes to not only reel in an Indian American audience in his first appearance at the Opera San Jose, here but also have them fall in love with the genre.  
Subbaraman is aware of the mild resistance that opera might face with Indian American audiences because they don't understand the music. But he sees storytelling as a universal tool and told India-West, "what would be truly amazing is to truly feel like our casting was color blind and desi audiences take us as seriously as other art forms."
'The Marriage of Figaro' composed in 1786 by Wolfgang Amadeus Mozart is considered one of the greatest operas ever written. It revolves around the servant Figaro and Susanna who succeed in getting married, despite the efforts of their philandering employer Count Almaviva, teaching him a lesson in fidelity.
The new production conducted by Subbaraman, while maintaining the sanctity of the plot, will transport audiences to British India with class barriers and sexual politics playing out in abundance. While the setting is wholly Indian, with dance choreography by Antara Bhardwaj and costumes by Deepsikha Chatterjee, the operatic traditions and the music of Mozart have not been diluted, said Subbaraman, with the musical lyrics being in Italian, with English and Spanish subtitles.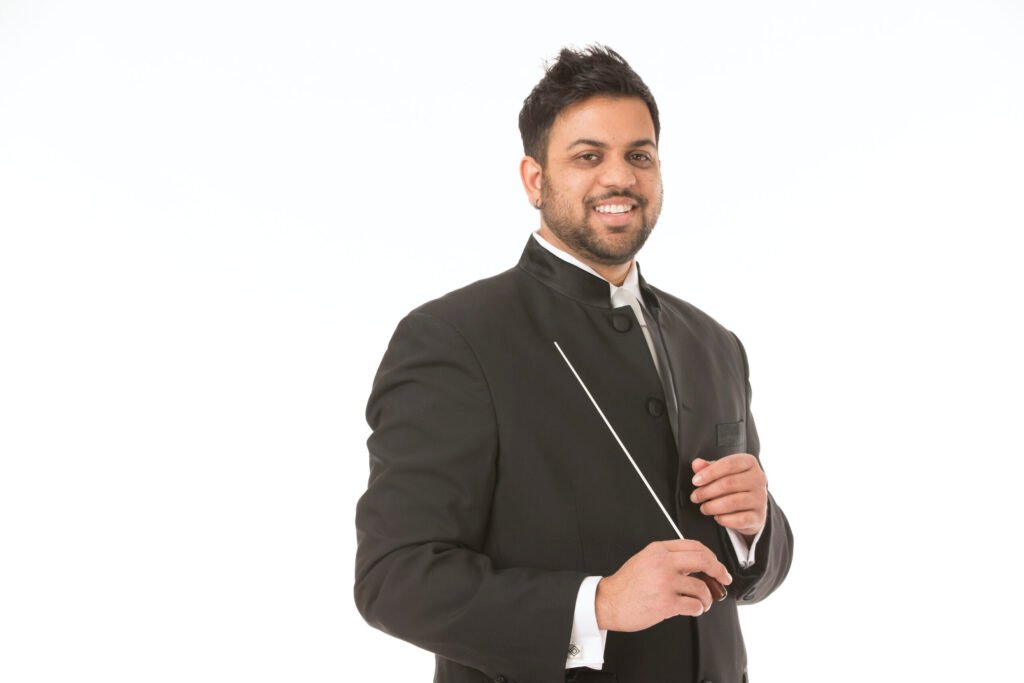 Directed by Brad Dalton, the cast will feature Maya Kherani as Susanna, Efraín Solís as Figaro, and Eugene Brancoveanu as Count Almaviva.
Subbaraman hopes that the show will have the support of Indian Americans reiterating, "What we are doing in the community is an invaluable ambassadorship." Elaborating, he said, that Indian Americans tend to be affluent and lose sight of the fact that there is a segment of the community that faces racism daily. In this context, he said, "working on this show with so many desi artists, we often have discussions on what we have managed to build in the classical arts world to be taken seriously amongst our white peers. This show will show the greater community that we are just as American as everyone else."
Subbaraman spoke of how he came into a profession that is not often seen in Indian American circles. He said he was raised in West Texas in a typical "from Chennai family" with the familiar blueprint of a physician father, a musically talented accountant mother. As is common with Indian families, especially one that has quite a few physicians, Subbaraman was expected to go to medical school just like his father and brother.
He compromised, majoring in biology and music. While at Duke University, a study abroad opportunity took Subbaraman to Austria where he experienced the magnetic magic of the Vienna Philharmonic. This is when he knew that opera conducting was his calling. With a graduate degree in conducting, Subbaraman joined a small but growing number of South Asians inclined more to the world of Western classical music.
Today, a much-respected orchestra maestro and opera conductor, he travels the world putting in appearances at prestigious venues, including the Orchestre National de France but he harbors a dream: putting together an all-desi-orchestra performing twice a year. "We almost have enough artists to do that," he says, "I would love for someone to fund that. I invite our community to come experience 'The Marriage of Figaro' and see what desi's can do with the art."
Subbaraman maybe a celebrity and revered in the music and operatic worlds, but he told India-West his personal playlist is eclectic and filled with old AR Rahman's compositions like from the film 'Roja,' Carnatic music, Dr. Dre and Tupac Shakur. (with inputs from interviewer KALYANI VASAN)