US-India Business: Gujarat Gets Micron Tech's $2.75 Bln Semiconductor Facility; GE Signs MOU
WASHINGTON DC (IANS) – Micron Technology on June 22 announced it will set up a new $2.75 billion semiconductor assembly and test facility in Gujarat, a day after Prime Minister Narendra Modi met Sanjay Mehrotra, the Indian American President, and CEO of Micron, here.
The combined investment over the course of two phases will be up to $2.75 billion.
Micron's new facility will enable assembly and test manufacturing for both DRAM and NAND products and address demand from domestic and international markets, the company said.
"We are excited about the steps India is taking to develop the local semiconductor ecosystem," said Mehrotra. The phased construction of the new assembly and test facility in Gujarat is expected to begin in 2023.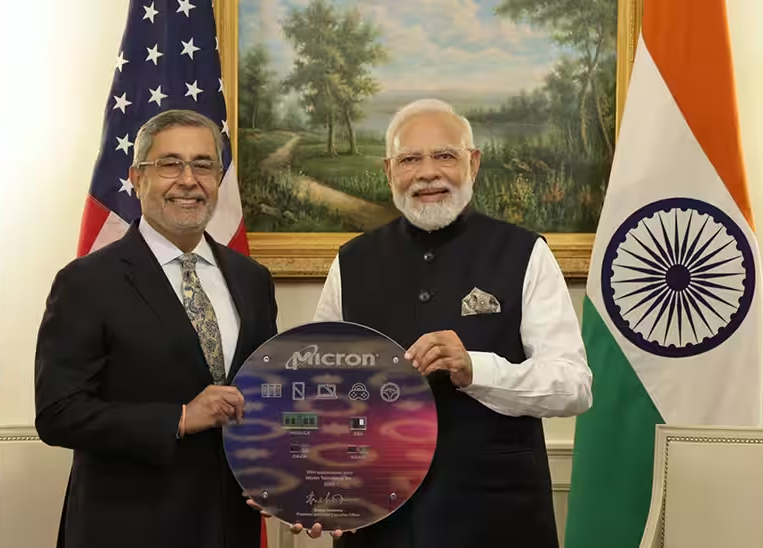 Modi met a cross-section of American CEOs in Washington and sought their technological collaboration in India. On June 21, he first met the CEO of Applied Materials Gary E. Dickerson. He then met CEO of General Electric (GE) Lawrence Culp Jr.
GE Aerospace announced on June 22 that it has signed a Memorandum of Understanding with Hindustan Aeronautics Limited (HAL) to produce fighter jet engines for the Indian Air Force.
The agreement includes the potential joint production of GE Aerospace's F414 engines in India, as GE Aerospace continues to work with the US government to receive the necessary export authorization for this.
"This is a historic agreement made possible by our longstanding partnership with India and HAL," said Culp. "We are proud to play a role in advancing President Joe Biden and PM Narendra Modi's vision of closer coordination between the two nations. GE's F414 engines are unmatched and will offer important economic and national security benefits for both countries as we help our customers produce the highest quality engines to meet the needs of their military fleet," Culp added.