Everest Base Camp Trek: Discovering Endurance, Joy, Divinity
Photo: The author (R), posing with his son Akshay, at Everest Base Camp.
By HARISH MURTHY
IRVINE, CA – In 2022, I made a request to my grad school alumni if anyone would join me on a trek to Everest Base Camp. I did get a few signups, but come July, I was left as the lone trekker.
I had committed to this adventure and was ready even if I were to go alone but Akshay, my younger son, decided I should not venture alone and joined me.
Two months prior to the trek, I tested my endurance and strength with a few day hikes in and around the area, including two attempts at Mt. Baldy, summiting it the second time. Of course, the one unpredictable factor was the A-factor or the effects of altitude.
My motivation to embark on this was not a conscious effort to self-aggrandize or fulfill my ego. Initially starting as a possible unique bonding among alumni of my grad class of '76, it morphed into a test of mind-body connection in the presence of divinity. It was also a dedication to the Vision of Rotary and Rotarians for Peace.
I hope to share my experiences that may inspire and invigorate your thoughts and you can find your own joy and inner peace.
Day 0- Arrival in Kathmandu
We flew into Kathmandu (KTM) from Delhi on Oct. 28. After checking into our hotel, we had lunch at a local haunt called Gaia restaurant and tried the local craft beer made with 100 percent German hops.
After wandering the streets of Thamel, where our hotel was located, we went back to repack our trekking gear into the provided duffle bag that our porter would be carrying. Our guide was a Sherpa from a community of mountain people with the same last names. We know them as trusted guides and helpers for mountaineers in the region but are sometimes perceived as just laborers.
Day 1 – Heli Ride to Phakding
After a sumptuous breakfast, we headed off to the airport. We had a 'scheduled' heli flight through Heli Everest. We carried our 25-lb bags and our backpacks through security and the guide handled our check in. But because of an emergency rescue, we had to wait. Six hours later, we got the 'Go.'
The hour-long flight was breathtaking as we crossed into the Solu Khombu Valley and were dropped off at Namaste Lodge's helipad, our resting place for the night.
Day 2 – Phakding to Namche Bazaar
After our first teahouse experience in Phakding, we got off to an early start around 7:30 a.m. This was to be a long arduous day and we had been forewarned. The first 4 hours of the trek took us through a series of ups and downs along the Doodh Koshi river to the village of Jorsalle (2740m), almost at the same level as Phakding (2610m). This was our lunch stop to load up on some energy for what was to come.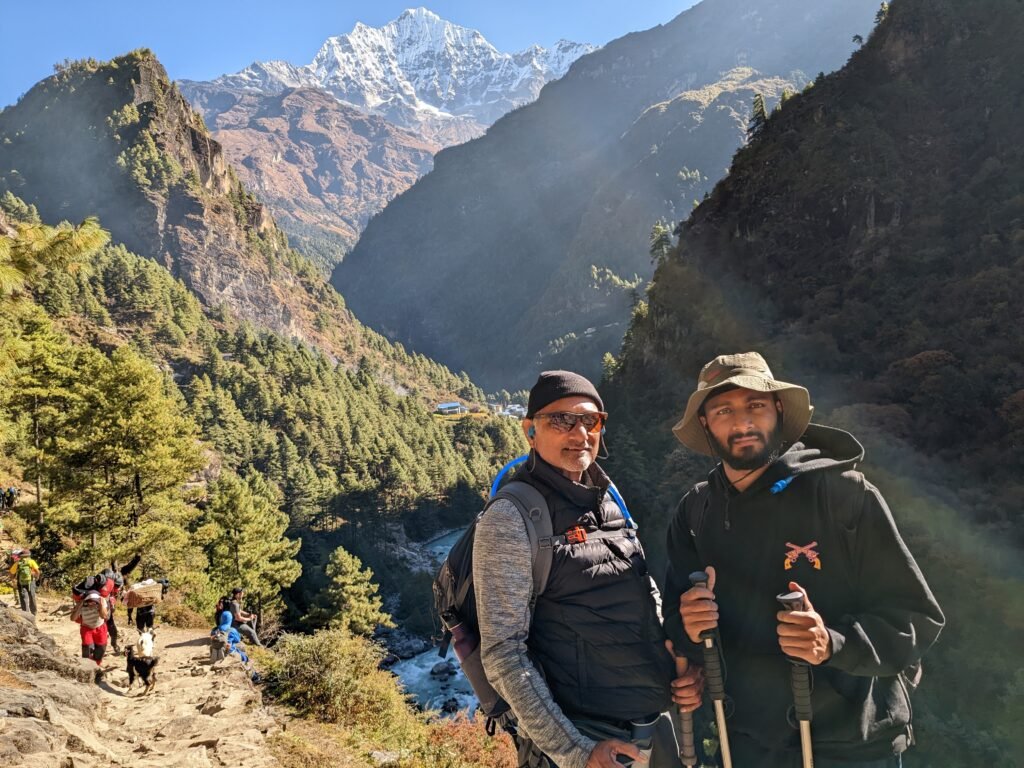 We started a gradual assent and soon after crossed one of the many suspension bridges across the Doodh Koshi river.
Then we crossed one of the highest bridges and started a steep ascent towards Namche Bazaar. This is difficult even at sea level but at an elevation of almost 3000m (10000 ft) it compounds the level of difficulty. I found this section was the first test of physical and mental strength. Our ascent was going to take us from 2700m to almost 3300m, a gain of almost 600m (2000 feet) but within a very short climbing distance. To add to the challenge, I started cramping in my calf and upper thigh. This was not new and I had to rest and relax to continue. It took us a good three hours plus before we sighted the village of Namche Bazaar. This was right after we had our first glimpse of Everest through the trees at a distance.
Staring the Ascent to Namche
At an elevation of 3300m, I started to feel the first effect of altitude. Every few steps I had to stop and regain my breath. There is a rhythm to walking at altitude and I chanted (a lot) to get that rhythm.
Seven-and-a-half hours after departing from Phakding, we arrived at Namche Bazaar. We would need to spend two nights acclimatizing at this altitude. Dinner included the traditional Nepalese 'momo' dumplings stuffed with potato and cheese along with spaghetti and fried rice. This was preceded by the ubiquitous ginger lemon tea, which has no tea leaves in it.
Day 3 -Acclimatize at Namche Bazar
At a little over 3000m, this would be the first level to check how one is dealing with altitude. The hike to a viewpoint 150m above Namche was our first view of Everest. The distinctive temple like peak rose above the rest.
After lunch and some rest, we explored Namche Bazar, the town. If you forgot anything critical for the trip you could easily find it in Namche.
Day 4 – Namche Bazar to Tyengboche
Next stop was a small Buddhist monastery town. The early section of the trek was relatively easy going but soon we hit the proverbial wall. The ascent was only for about 400m or 1300 feet but again you are doing this at 10000+ feet elevation.
Every corner you turned, you were treated to majestic sights. This was a 7-mile trek that took about 6 hours, including a lunch break. Our usual routine was to start our treks around 8a.m. and be done about 3p.m.
Tyengboche (3800m) is one of the most picturesque towns and our room had a direct view of the Everest range. After arrival, we immediately did a short 30-minute hike to a higher elevation to acclimatize. It seems crazy after walking for about 5-plus hours to do that but it seems to work well. Did not have any symptoms of altitude sickness.
Tyengboche's monastery is one of the largest Gompa in the region and we visited the monastery while a reading/chanting session was in progress.
Day 5- Starting to Feel it – Onto Dingboche
We were going from 3800m to Dingboche at 4400m. The trail led us up then down all the way to the river and soon after we crossed it was a steep ascent to a ridge. That opened into a spectacular valley that was a gradual ascent towards the village of Dingboche.
Although we had no symptoms of altitude sickness, it is not uncommon to feel the drop in oxygen levels.
Day 6 – The A-Test
Our next stop would take us to 4900m (16000 ft) so they suggested we have another day of acclimatizing at Dingboche. It's the usual routine of doing one short hike to a higher elevation. So we hiked up the trail along with 100 others who were on the same EBC trek.
We felt good on this hike and felt set for the next day's 6-hour trek to Lobuche.
Dingboche has nothing of interest but serves as a base for climbers in the area, especially Ama Doblam.
Garlic soup for dinner is apparently an antidote to altitude sickness. We also checked out a local bakery that served up a chocolate brownie and to Akshay's delight, a quesadilla.
Day 7 – EBC Minus One
The trek from Dingboche to Lobuche was intended to bring us closer to the 5000m level to give you one last chance to test your body's ability to handle the altitude.
The big challenge in this section was to cross the Thukla Pass which is an ascent of about 300m straight up. At the top of the pass is a memorial to many of the climbers who died on the mountain staying true to their commitment.
Day 8 – The Summit
The night at Lobuche was a little restless. Sleeping at altitudes is a challenge.
We got our usual start around 7:30a.m., with temperatures around -10C or 14F. Bundled up after a good breakfast we started our trek to Gorakshep, which was only a 200m higher elevation but we could barely maintain a pace of 1km per hour. The barometric formula shows oxygen levels fall from about 20.9 percent at sea level to about 11 percent at 5000m.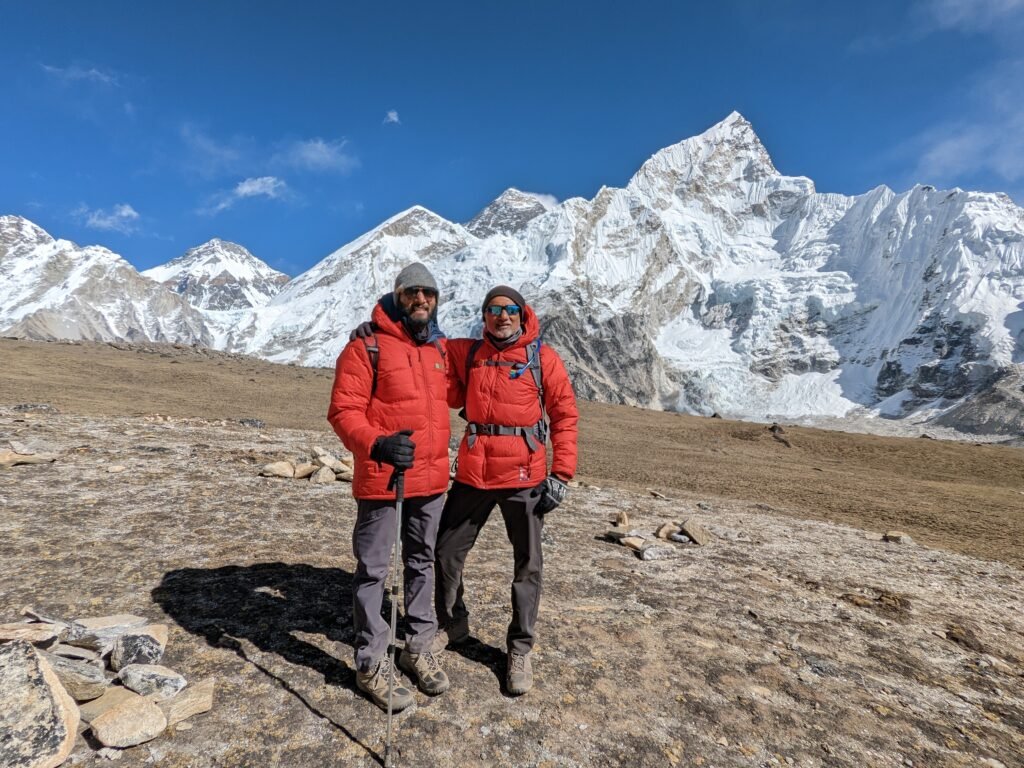 We reached Gorakshep in about 3hours and we had a brief discussion about what's next. For those who don't know, Everest (the mountain) is actually not visible from Everest Base Camp. I really wanted to get the best available closer view of Everest since we had come this far. There was a part of the trek that was deemed optional and that was to climb up to 'Kaala Pathar,' a view point at about 5500m. Our guide said we could climb up towards KP but not all the way and still get great views of Everest and then we could cut across to the trail going to EBC and make our goal and be back at Gorakshep by evening. That would make it about 10 miles in all and we were averaging barely about a km an hour earlier. Butwe chose to do it.
Since it was just the two of us, our guides took the risk and guided us gently down the steep slope to the trail at the bottom leading to EBC trail. We hit the trail to EBC, made it in about an hour and a half, reached the famous EBC rock and 'high five'd' each other on reaching our final destination. I can say that I was strong enough to make it back to Gorakshep, albeit exhausted and beat.
Day 9 – The Descent
What we did in 6 days of trekking, we would now do in 3.
Before we started, Dava, our guide, discussed options with us and per his suggestion, we were going to push to reach a place called Pangboche which would put us closer to Namche Bazaar and save 2 hours of trekking on the second day. After a good breakfast, we set out. If you thought going downhill was easier, you would be wrong. First off, going downhill doesn't necessarily mean there is no uphill!! Secondly, you have to watch your step especially on rocky and uneven terrain as it is much of the wayto avoid a potential fall which could be quite disastrous.
Not to mention the toll it takes on your knees.
We reached Pangboche at around 5p.m. Our rest stop here was at a quaint Juniper Lodge which was sparsely occupied and very quiet. We settled down to a quiet evening and the host cooperated by lighting the chimney heater that we would all sit around after dinner. Conversations centered around Nepali and Sherpa culture.
Day 10 – On to Namche Bazar
The next day's trek was to be a shorter one to Namche Bazar. People getting into Namche either on their way up or down, use that stop for a hot shower.
Yak Farm in Pangboche
The joy of a hot (not warm) shower after 5 days is indescribable. As we relaxed, we watched a bunch of Sherpa women come and sing songs outside our lodge. This was part of their tradition celebrating Losar Pulu, coinciding with the full moon in November.
Day 11 – The Home Stretch
While the going was tough, it's a different energy when you know you are in the home stretch. Nonetheless, we still needed 8 hours to complete the final 12 miles into Lukla and checked into the Hikers Inn.
Dava and Ramesh were amply rewarded for their efforts and Akshay and I had one more bonding evening at an Irish Pub in Lukla.
(Harishankar is based in Irvine, CA and runs the Ektaa Center which works to support the dance, music, theater and other related arts of India.)