Four Indian Americans Win Paul & Daisy Soros Fellowship
By BHARRATI KUMAR
NEW YORK, NY – The 2022 Class of Paul & Daisy Soros Fellows has been announced and among the 30 are four Indian Americans. A press release said that they had been selected from more than 1,800 applicants. Each of the recipients was chosen for their potential to make significant contributions to the United States and will receive up to $90,000 in funding over two years, the release said.
The Indian Americans who have singled out for this year's honors:
1.Rishi Goel, MD, student at the University of Pennsylvania, was amongst the proud recipients of the Fellowship to augment his research work that focuses on understanding immune responses to viral pathogens and has led to new insights into the development of immune memory after SARS-CoV-2 infection and mRNA vaccination. More broadly, he has been involved in launching the Immune Health Project at Penn, which aims to bring immune profiling into the clinic to better diagnose, treat, and prevent disease.
He earned his bachelor's degree in 2017 in biochemistry and a minor in applied statistics. Through his work at the Michigan Nanotechnology Institute, Goel got interested in applying the immune system to treat a disease. For his undergraduate thesis, he designed and tested a novel therapeutic vaccine for food allergy that was able to re-train pathologic immune responses and suppress disease.
Goel earned a master's degree in immunology from the University of Oxford in 2018, where he was awarded highest distinction for his academic work and was a member of the Blues lacrosse team. He then completed an IRTA Fellowship at the National Institutes of Health, investigating new mechanisms of tissue damage in autoimmune diseases like lupus and rheumatoid arthritis.
Goel carries fond memories of the baking experiments with his grandfather while growing up in Ann Arbor, MI, where he was born. His parents migrated from Lucknow.
Goel has published more than 20 academic papers. He hopes to pursue a career as a physician-scientist, using the latest innovations in immunology research to improve patient care.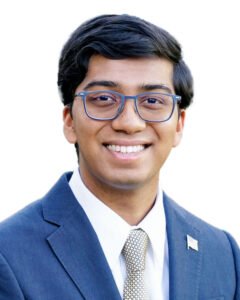 2. Indian American Syamantak Payra grew up in Houston, TX with an affinity for Bengali food and folk tales and he loved reading. His academic upbringing was a blend of global span and local nuance: learning arithmetic over Yahoo! Messenger from his grandfather halfway around the world in India, experimenting at home with his scientist parents, conducting school projects partnered with NASA engineers at Johnson Space Center, and competing in spelling bees and science fairs across the US. Through these avenues and activities, Payra gained broader perspectives to gear his life.
Some health-related family tragedies at home drove him to study how technology could solve healthcare challenges. His proudest accomplishments include building a robotic leg brace for his paralyzed teacher and conducting free literacy workshops and STEM outreach programs that reached nearly a thousand underprivileged students across the Greater Houston Area.
Payra will complete his under graduation in engineering at the Massachusetts Institute of Technology this year, where he is majoring in electrical engineering and computer science, with minors in public policy and entrepreneurship & innovation. His research includes creating digital sensor fibers that have been woven into intelligent garments to assist in diagnosing illnesses and making more protective next-generation spacesuit prototypes.
The fellowship award supports his plan to pursue a PhD in engineering at Stanford University and aims to create new biomedical devices. In the long term, he hopes to draw upon his public policy training and shape American educational and scientific ecosystems that will empower upcoming generations to continue learning, creating, and improving healthcare for decades to come.
His research has been published by multiple scientific journals, and he was inducted into the National Gallery of America's Young Inventors.
3. The prestigious Fellowship was awarded to Sai Shanthanand Rajagopal o support work towards an MD at Harvard University. He is a Tamil-speaking immigrant from Canada who was raised in Canada and Tennessee. The Canadian Prairies and the American South helped inform Rajagopal's views on immigration, access to healthcare and quality education, and the ability to take an active role in government and legislation.
Rajagopal obtained a master's degree in mechanical engineering from the Harvard School of Engineering and Applied Sciences in 2020, continuing their work in prosthetic device design. He also studied women, gender, and sexuality studies along with biomedical engineering. As a biomedical device designer, He worked with a team to design an electric rowing machine for paraplegic patients and now focuses on designing safe prostheses for transgender people. In the future, he wants to work at the intersection of gender-affirming clinical care and policy.
His additional academics include attending Oxford University on a Rhodes Scholarship and earning a master's degree in South Asian studies in 2021. During pandemic, he co-founded the Bridging Borders Project, a radio and online policy platform that brought together over 20 presidents, prime ministers, and global leaders to exchange COVID-19 healthcare policy insights. During this time, he also wrote opinion pieces, telling the stories of refugees from South Asia to various periodicals.
His ambition focuses on finishing an MBA from Oxford's Saïd Business School, and then matriculate at Harvard Medical School in the MD program. After medical school, Rajagopal hopes to become a gender-affirming care surgeon, conveying the complex science of gender-affirming care in the media.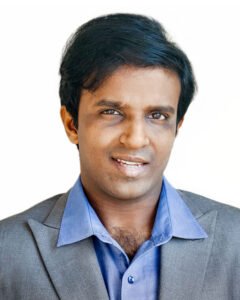 4. Hari Srinivasan's inspirational drive and pursuit towards a PhD in Neuroscience at Vanderbilt University to be completed by 2027, has earned him his fellowship.
San Francisco born Srinivasan is the child of immigrants from India. This bright and social toddler was diagnosed with autism and ADHD at age three. His parents were suddenly faced with the traditional challenge of cultural assimilation, the daunting task of trying to understand their child's autism and the maze of disability services, therapies, and treatments. Naturally, his education went on a slow pace.
Srinivasan's early education became a series of low expectation special education classrooms. At age 10, he was learning basic addition and spelling three-letter words. By middle school he had been moved to a special-education-only school that would not create a direct path to college. However, the combination of alternative communication technology and moving to a charter school, helped him access mainstream education. Things began to change. Srinivasan won various awards for his creative writing and poetry and was high school valedictorian. Most importantly, he was on a path to college. Srinivasan is deeply appreciative of his parents' efforts and innovative solutions to help their "extra-ordinary" child, while keeping him connected to his cultural roots and fostering his passion for eastern philosophy and spirituality.
Srinivasan did his AA in Psychology at San Jose City College in 2017. Presently he is a senior at UC Berkeley, where he is majoring in psychology and minoring in disability studies. While at college, he has written over 50 articles on autism for the Daily Californian, worked for various research labs, and taught a class on autism as a student instructor that he designed for eight semesters.
As a Haas scholar, Srinivasan has been able to conduct fully funded research on the emotional experiences of autistics, specifically the emotions of awe and empathy. He will graduate Phi Beta Kappa and Psi Chi. His research seeks to contribute to our knowledge and understanding of autism, given the ever-growing ranks of autistics in our society. He was selected to serve on the Interagency Autism Coordinating Committee, which advises federal policy and priorities. He is also on the Council of Autistics Advisors for the Autism Society of America, on the Community Advisory Board for the Brain Foundation, and is vice-chair of the Autistic Self Advocacy Network.