Hinduphobia – A Nationwide Growing Menace in the USA
Photo : Hindu Hate Incidents As Per Hindu American Foundation (HAF) Website, Photo by: Tara Chand
Hinduphobia or Hindu hate is growing nationwide and resulting in various kinds of hate crimes. Several reports including the one by the FBI highlight this alarming trend.

What is Hinduphobia
Hinduphobia is a set of antagonistic, destructive, and derogatory attitudes and behaviors towards Sanatana Dharma (Hinduism) and Hindus that may manifest as prejudice, fear, or hatred.
The complete range of Hinduphobic acts extends from microaggressions to genocide. Hinduphobic projects include the destruction and desecration of Hindu sacred spaces; aggressive and forced proselytization of Hindu populations; targeted violence towards Hindu people, community institutions, and organizations; and ethnic cleansing and genocide.

Reports by Hindu American Foundation
Hindu American Foundation (HAF) compiled a report titled "History of Anti- Hindu Bias and Hinduphobia in the United States". According to this, Hindu hate incidents in the USA are growing since 2001. In 2017 there were 11 reported incidents of Hindu hate crimes.
Reports by the Federal Bureau of Investigation
The Federal Bureau of Investigation (FBI) has been tracking anti-Hindu hate crimes since 2017 as part of Crime Data Explorer. There are a significant number of anti-Hindu hate crimes as per FBI reports available from 2017 to 2021 considering that Hindu Americans constitute less than 1% of the nation's population.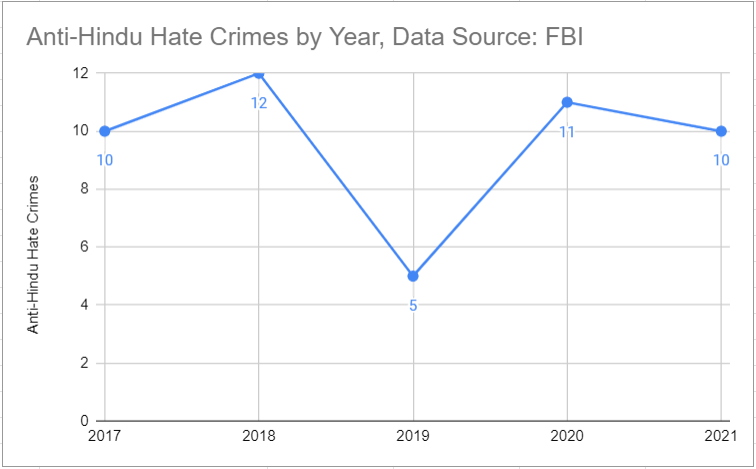 Reports by Rutgers University
One recent research published by Rutgers University and Network Contagion Research Institute (NCRI) in July 2022 found an increase in Anti-Hindu Disinformation. The full research report shows a systemic structure of consistent themes ranging from exoticization, barbarism, and heresy, as well as genocidal and tyrannical evils. Another report published in The Washington Post on August 29, 2022, highlighted that anti-Hindu attacks grow in recent times all over the USA [5].

Caste bills increase Hinduphobia
Recently there have been several bills to add caste as a standalone facial discriminatory category to the Civil Code, the most recent being California Senate Bill 403. These bills are targeting South Asian Americans and affect Hindu Americans in particular. These are not only unconstitutional and deny equal protection of the law to all as guaranteed by the 14th constitutional amendment. Though there have been several lawsuits challenging some of these bills, these have already done significant damage in dividing the Hindu Community and triggering a fresh wave of Hinduphobia.
We all have a role to play.
The first step to addressing any problem is acknowledging it and there have been some efforts in this regard. The Georgia Assembly passed a resolution condemning Hinduphobia on March 27, 2023, making it the first American State to take such a legislative measure. The City of Fremont, California condemns the rise in Hinduphobia in a new proclamation on April 18, 2023. Increasing incidents of Hinduphobia show an alarming situation requiring immediate and effective steps to address where each one of us can play a role. Let's rise to the occasion to enhance the awareness about the contributions of Hindu Americans as well as Hindu culture, and beliefs.