Joy Of Sharing Foundation Awarded For Its Service In Distributing Meals To The Needy
India-West Staff Reporter
LOS ANGELES, CA – The Hot Meals Program, managed by the Joy of Sharing Foundation (JOSF), was recognized by the Los Angeles Business Journal (LABJ) during its Non-Profit and Corporate CitizenshipAwards function, held here on April 19.
The Norwalk, CA based Joy of Sharing was given the ' Team of the Year' award for its outstanding contribution to feed over 90,000 unhoused neighbors in several counties of Southern California in 2022.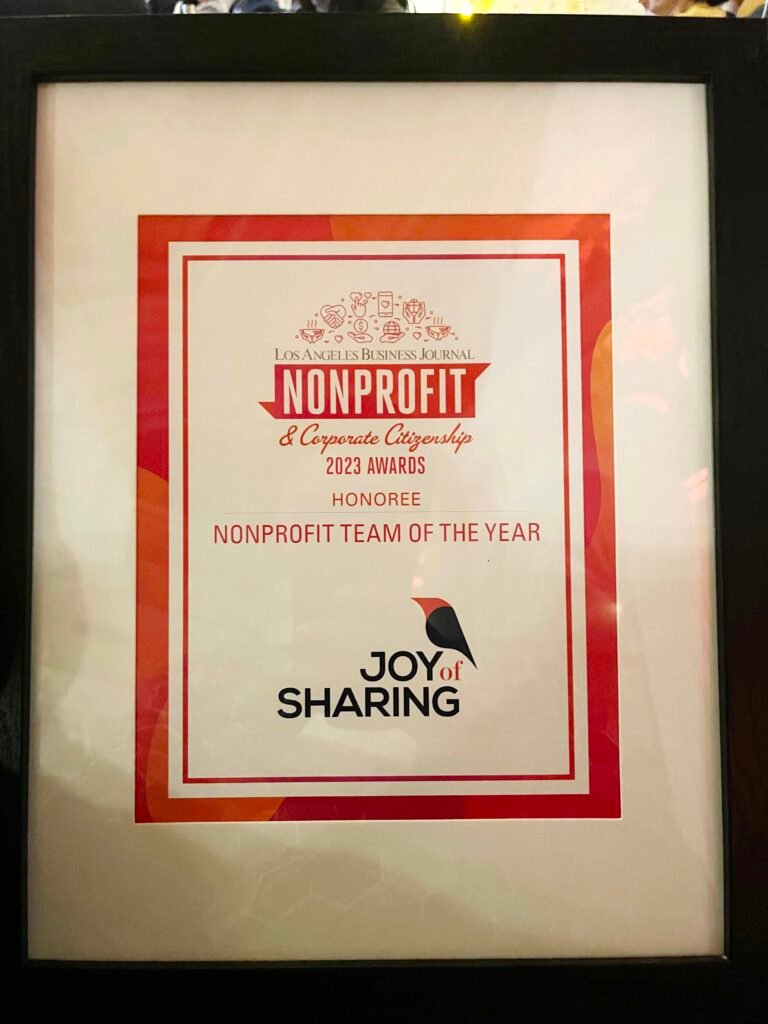 On behalf of over 100 volunteers, the award was received by Dr. Varun Gandhi, Smita Parmar, Dr. Narendra Parson, Aayush Patel, Adhir Shah, Dr. Nitin Shah, Shrenik Shah, and Mahesh Wadher.
The project began in May 2020 as an effort to provide basic groceries like sugar, oil, black beans, rice, pasta, tomato sauce, etc., to the local community. But it expanded when volunteers realized that many had no place to cook the supplies. That's when the Foundation decided to provide individually packed, fresh, hot meals every Sunday.
The initiative has expanded to include 25 partner organizations and individuals who pick up between 25 and 300 meals and hand deliver them to individuals in their communities. With their rotating menu of kidney beans and rice, red pasta, and garbanzo beans and rice, individuals are provided with a plant-based, nutritionally well balanced meal once a week.
At least 35% of the meals are served in Skidrow by Good Karma Los Angeles. The Downtown Women's Center in Skidrow, which focuses exclusively on serving and empowering women experiencing homelessness and formerly homeless women, receives the meals as well. Till date, 281,926 meals have been served.
The Foundation is looking to set up similar kitchens in other parts of California and the country. Please reach out to Dr. Varun Gandhi at varungandhiphd@gmail.com for more information on this program and how you can get involved.