Vishwa Mohan Bhatt Headlines Chinmaya Mission's I-Day Celebrations
By T.S.R.KRISHNAN
TUSTIN, CA – Southern California music lovers and patrons of Chinmaya Mission Los Angeles, gathered here on August 21, in a celebratory mood: after the two years long Covid induced break, it was the first time CMLA's cultural wing Kalanjali was hosting an in-person concert. The moment was doubly significant as it was also held to mark India's 75th year of independence.
The event, held at CMLA's center Chinmaya Rameshwaram, was headlined by the Grammy-winning musician Vishwa Mohan Bhatt on the mohan veena accompanied by Pandit Subhen Chatterjee on the tabla.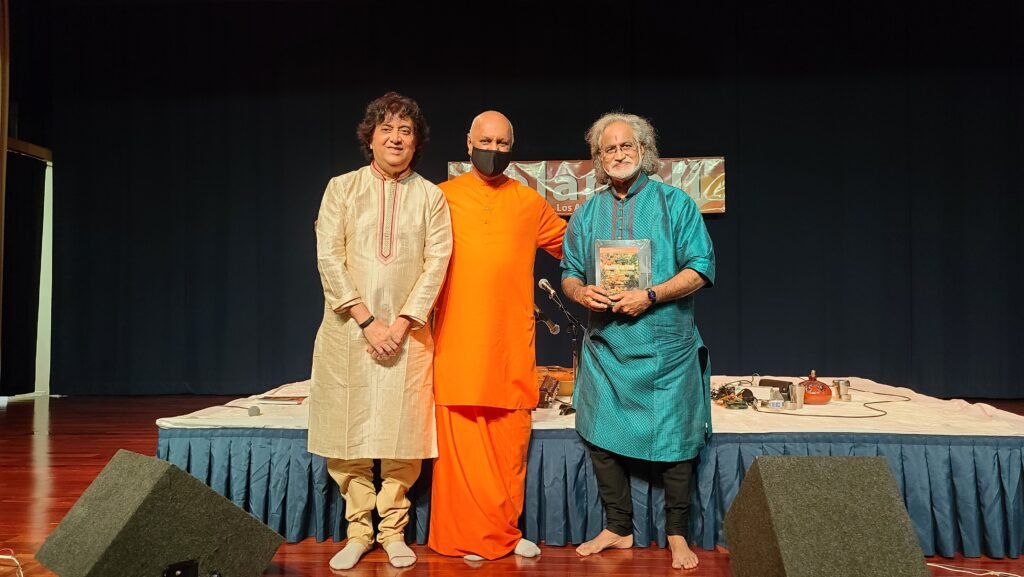 The evening began with Swami Ishwarananda, who heads CMLA, reminiscing in his talk on the involvement of mission founder Swami Chinmayananda in the Indian freedom movement. He spoke of the spiritual leader's vision for India and how, through his teachings, had sought to uplift all humanity.
Keeping India in focus, the Mission's music choir, Swaranjali, rendered two bhajans that praised the mother country including 'Dhanya Dhanya Jaya Bharatmata' composed and written by Guruji Swami Tejomayananda.
Bhatt then commenced the concert with a soulful rendition of a lesser-known, yet enchanting evening raag, Gawati which when played on a string instrument, always has an unusual appeal, sure to mesmerize listener, whether a knowledgeable musician or an uninitiated music lover.
A master at keeping all sections of a crowd happy, after the main Gawati, Bhatt sang with a laugh the popular ghazal by Fayyaz Hashmi, 'Aaj Jaane Ki Zid Na Karo,' and had the audience pinned to their seats.
At the request of his accompanist, Chatterjee, the renowned musician then played his famous song from his Grammy award-winning album 'A Meeting by the River.' Both the artists blended well and provided a memorable experience for everyone who was fortunate to attend.
Bhatt finished the concert with a rousing 'Vande Mataram' to the great delight of the audience celebrating with nostalgia, India's Independence Day.